| 13-05-2016 | Erna Erkens |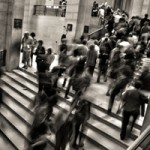 KNAB bank start met crowdfunding voor ondernemers (bron: RTL Z). treasuryXL vroeg expert Erna Erkens te reageren op dit nieuws:
Dat vind ik knap! Een eigen platform voor crowdfunding van KNAB Bank. De eerste bank die hiermee komt. Complimenten! Gerrit Zalm riep 2 jaar geleden nog dat hij geen toekomst zag in crowdfunding, dat er wel mee geëxperimenteerd werd bij ABN AMRO, maar dat dit nog niet het gewenste resultaat had. Ik ben benieuwd of hij daar nu nog hetzelfde over denkt. Ik was het met hem oneens.
Wat is crowdfunding?
Crowdfunding is een vorm van financiering waarbij ondernemers, stichtingen maar ook particulieren een beroep doen op "the crowd" om hun kredietbehoefte ingevuld te krijgen. Crowdfunding is sterk in opkomst. In het Verenigd Koninkrijk lopen ze ongeveer 3 jaar voor op Nederland en daar werd in het eerste kwartaal van 2016 voor GBP 700 miljoen 'gecrowdfund'. Er worden daar al bedragen van GBP 5 miljoen gefinancierd. Crowdfunding of ook wel 'crowdfinance' genoemd verliest in rap tempo het predicaat "alternatief" en wordt in snel tempo mainstream. Een goede ontwikkeling volgens mij. Steeds meer partijen van de financieringsmarkt gaan samenwerken met partijen die gespecialiseerd zijn in crowdfinance. Dit betekent dat een kerndienstverlening van banken aan het begin staat van een enorme verandering. Ik weet niet zo goed wat de taak wordt van de bank(en) maar zij lopen dan in ieder geval een veel kleiner of geen risico.
Voor wie, wat en hoe?
Crowdfunding is grotendeels geschikt voor het MKB bedrijf. Er kan bij KNAB Crowdfunding geleend worden van EUR 50.000 tot EUR 100.000. Er zijn 100.000 potentiële investeerders. Een rekening bij KNAB bank is niet nodig. KNAB Bank werkt samen met Collin Crowdfund. Samen met partijen als OnePlanetCrowd zijn zij in Nederland de specialisten op dit vlak. Zij werken ook samen, voor wat betreft crowdfunding, met de Rabobank. De Rabobank heeft alleen geen eigen platform voor crowdfunding maar is een samenwerkingsverband aangegaan met deze twee partijen.
Je ziet dus bij meer partijen een verschuiving ontstaan. Wat is er nog onduidelijk? Wie loopt welk risico? Er wordt bij KNAB bank een kredietbeoordeling uitgevoerd en de kosten daarvoor zijn EUR 350. Na betaling krijgt het bedrijf dat op zoek is naar financiering een Crowdfund coach aangeboden, die gaat samen met dit bedrijf kijken naar de cijfers. Deze worden ingevuld in een Credit Score. De uitkomst hiervan is belangrijk voor de kredietbeoordeling en bepaalt de bandbreedte waarbinnen de rente mag worden vastgesteld. Vervolgens schrijft het bedrijf een korte pitch voor op de website. Daarna wordt gekeken of de leningsaanvraag wordt goedgekeurd. Bij goedkeuring komt de aanvraag op de website en als de aanvraag is volgeschreven krijgt het bedrijf het geld op de rekening gestort. Klinkt eigenlijk heel eenvoudig.
Wat zijn de risico's?
Daar vind ik nog weinig informatie over. Bijvoorbeeld: wie loopt welk risico? Stel een bedrijf kan niet aan zijn rente- en aflossingsverplichtingen voldoen? Wie loopt dan welk risico? En stel dat een bedrijf die een financiering heeft gekregen failliet gaat? Ben je als investeerder dan al je geld kwijt? Hoe hoog zijn de rendementen of rentelasten voor de betrokken partijen? Als de klant 6% betaalt krijgen de investeerders dan ook 6%? Ik zie ook onmiddellijk kansen voor verzekeraars voor crowdfunding. Misschien iets voor banken??
Mijn conclusie
Er zijn veel voordelen aan crowdfunding / crowdfinance. Er zijn wat mij betreft ook wat dingen onduidelijk en het is nog wat kostbaar. Ik denk toch dat hier een grote toekomst ligt. Als het aanbod groeit, er meer ervaring is en de markt is groter, dan zullen de kosten ook wel wat minder worden. Want dat vind ik nog wel een punt. Ik vind het nog wel prijzig. Als je EUR 100.000 wilt lenen ben je, zonder de rentebetalingen, bij KNAB  bij aanvang EUR 3.300 kwijt en per jaar, los van de rentebetalingen, EUR 600. Ik vind toch dat het beter is om met elkaar de economie op gang te houden en elkaar te steunen. Dat maakt de betrokkenheid bij elkaar ook groter. Zo zorgen we met elkaar voor elkaar. Dit zal in de maatschappij op andere vlakken ook nog veel meer gaan voorkomen denk ik.
Owner at Erna Erkens Valuta Advies (EEVA)
https://treasuryxl.com/wp-content/uploads/2016/05/crowdfund.jpg
200
200
treasuryXL
https://treasuryxl.com/wp-content/uploads/2018/07/treasuryXL-logo-300x56.png
treasuryXL
2016-05-13 08:00:01
2020-07-06 15:32:11
UItgelicht: KNAB crowdfunding