| 01-07-2016 | Frank Wijn |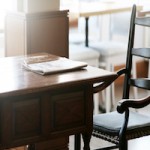 AFM krijgt er van langs in het A&M rapport over toezicht op derivatendossier. De kranten meldden woensdag jl. dat de AFM de derivatenellende onderschat had. Ook de Wet van Murphy zou van toepassing zijn, aldus het AFM bestuur. Lariekoek. AFM wist hoe groot de derivatenellende was.
Kenniscentrum Rentederivaten heeft 2 jaar (!) lang, individueel en gezamenlijk, vele MKB-derivaten klantdossiers (met toestemming van deze klanten uiteraard) met AFM besproken. Al snel werd duidelijk dat de benodigde technische en praktische kennis niet direct voor handen was bij AFM. Organiseer dat dan, denk ik dan. De bank- en klantbelangen zijn immers groot genoeg. Net als de ellende.
Typisch ook dat een van de AFM medewerksters de verhouding 'toezichthouder-banken' typeerde als David tegen Goliath. Ja, en? Als je Goliath tussen de ogen raakt, kun je als David gewoon winnen, heb ik ooit eens gelezen. Daarnaast heb ik vriend Murphy nooit aan tafel gehad bij al die KCR-AFM gesprekken en discussies.
Vaak spraken wij (erg) jonge personen in wisselende samenstellingen. En de twee gedreven AFM medewerkers die hun tanden er goed in hadden staan, gingen tijdens dit project bij ABN Amro Bank werken. Allemaal louter toeval natuurlijk.
Zo stuurde ik op 30 juli 2013 AFM dit mailbericht: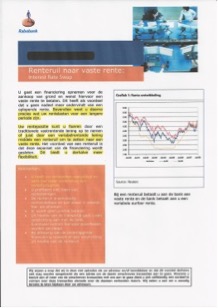 "Bijgaand de standaardteksten bij de advisering/verkoop van een renteswap door de Rabobank. Let op het verschil van 2008 en 2010! In 2008 is het structureel verkocht door te stellen dat de klant 'een vaste rente gaat betalen'.
In 2010 zijn ze wél duidelijker, maar beginnen hun verkooptekst nog stééds met 'u bent niet meer onderhevig aan rentefluctuaties'. Ik, jullie en bankklanten weten inmiddels dat dat lariekoek is……. Zie het Follow The Money-artikel. " 
Op 3 november 2013, in het programma Brandpunt, ontkent AFM glashard dat zij de brochure kent:
Ook het feit dat AFM accepteerde dat de banken hun oud-verkopers van rentederivaten verantwoordelijk maakten voor de landelijke herbeoordelingen, zei en zegt mij genoeg. De Britse toezichthouder ging daar al direct voor liggen. Hier in Nederland niet. Hier mag de 'draaideurcrimineel' zijn eigen handelen beoordelen en zelfs mede de strafmaat bepalen door mee te praten en onderhandelen over het Algehele Herstelkader. Bizar. Minister Dijsselbloem had 2 jaar nodig om tot de conclusie te komen dat een slager beter zijn eigen (rottend) vlees niet kan en mag keuren. Twee jaar!

Dit Algehele Herstelkader komt een dezer dagen naar buiten en ook met de door Dijsselbloem aangestelde Commissie Rentederivaten heb ik hierover gesproken. Slimme mensen met duidelijke inhoud en visie. Of zij bestand zijn tegen de enorme bankenlobby? We'll see.
De timing van de release van dit A&M rapport heeft ook niets met Murphy te maken. Dit 'toeval' stelt de banken zo direct toevallig in staat om bij het uitkomen van het Algehele Herstelkader (dat zij al lang hebben ingezien) met hun vinger te gaan wijzen naar de gebrekkige toezichthouder. "Ik reed weliswaar door het rood, maar ik ben nooit adequaat terecht gewezen door de agent. Dus, tsja wat wil je dan"?
Wel zo lekker……een bliksemafleider voor jouw eigen verantwoordelijkheden.
Kortom, zowel de banken, de AFM (waar is DNB in deze?), het KiFiD en de politiek kunnen niet zeggen dat ze niet wisten hoe groot de zak ellende was en is. Laat de banken hun verantwoordelijkheid nemen. De winst op deze fout verkochte producten hebben ze al.
Expert in financiële duidelijkheid 
https://treasuryxl.com/wp-content/uploads/2016/06/2016-04-Life-of-Pix-free-stock-desk-newspaper-light-LEEROY.jpg
200
200
treasuryXL
https://treasuryxl.com/wp-content/uploads/2018/07/treasuryXL-logo-300x56.png
treasuryXL
2016-07-01 08:30:04
2020-07-02 14:55:06
AFM hat es gewusst! AFM krijgt er van langs in het A&M rapport