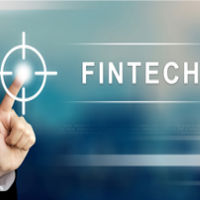 | 22-2-2017 | Arnoud Doornbos |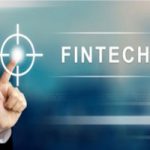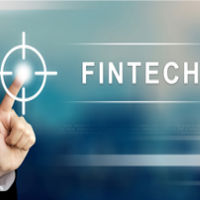 FinTech is a term that is becoming popular in the financial world. Only one third of the financial experts know what this means  and understands  what consequences it has for their business. How this innovation is currently changing the ecosystem of money, is still relatively unknown.
FinTech is a contraction of the words financial and technology. In other words: it covers all innovative financial products and services that simplify and accelerates the way we handle money. For traditional banks FinTech is still an uncomfortable concept. Why? Because a large portion of the revolutionary financial concepts are derived from technology driven start-ups. These start-ups change the traditional ecosystem. This is enormously important in a country like the Netherlands where the majority of firms is financed by banks and personal finances of the people are predominantly held by financial institutions  which find it often difficult to modernize.
The emergence of ICT in the financial sector may also have different consequences. Those FinTech companies that focus on a single product or service can erode the business model of banks. At the same time the same technology also offers opportunities for traditional players to improve their service and reduce costs. Also, traditional players have a competitive advantage over new entrants based on their knowledge of regulations and access to information from relationship banking (also called soft information).
FinTech companies have greatly changed the rules of the sector. Today we can pay via our mobile phone, quickly apply for online credit and invest online with one click. The list of innovative ideas is endless and an enrichment for everyone.
FinTech VC investments
The explosive growth of the financial technology industry continued in 2016.
2016 has seen 839 deals globally attracting $15.2bn of investment
Global investment is up 27% to Q3 2016 vs the same period in  2015 and has surpassed the 2015 total of $14.9bn
Global deal size is slightly ahead of 2015 Q3 levels, with the average increasing from $14.3m to $18.1m, partially attributable to large Chinese investments such as Alipay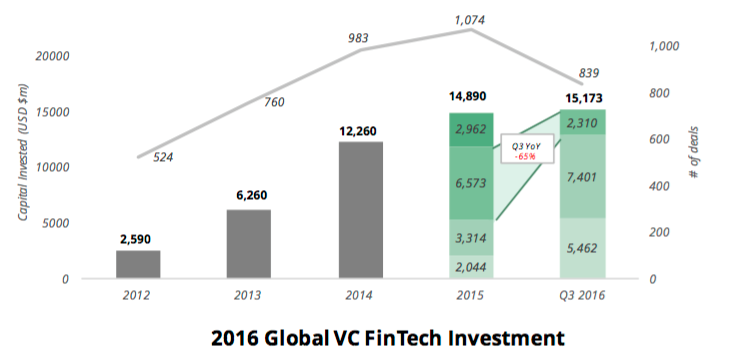 Source: Pitchbook Innovate/Finance
Most money was invested in start-ups. Projections show that the amount of investment will continue to rise.
The power of this technology-driven financial services lies in the fact that it is fast, efficient, transparent and mobile. You can use these services as long as you have Internet access. Of course, this strongly contrasts with the discontent which experienced customers from traditional banks.
Looking ahead — the FinTech industry could experience even greater growth moving into the coming year. The future remains positive from an investment perspective. We may expect an uptick after relative slow growth in the second half of 2016 due to political risks such as the Brexit and the US elections which fueled great uncertainty across all emerging sectors. Along with increased attention, the industry could see a large number of fresh launches and FinTech could make its way into an even stronger growth pattern in 2017 as investors have become more certain about industry prospects.
The possibilities for FinTech in Netherlands
In the Netherlands, there is also a strong rise of FinTech companies. Companies like Paypal are rapidly gaining market share. The biggest and best-known Dutch company FinTech Adyen. This company was recently valued at more than € 2.3 billion.
The FinTech Top 100 announced in 2016 that there are eight Dutch FinTech startups are part of the leading European companies in the financial technology. The financial infrastructure and the international focus play an important role. In addition, capital and expertise is also necessary for innovation, two factors Netherlands as a European Member State meets. The Netherlands also rise in 2016 from the 5th to the 4th place in the ranking of most competitive economies in the world.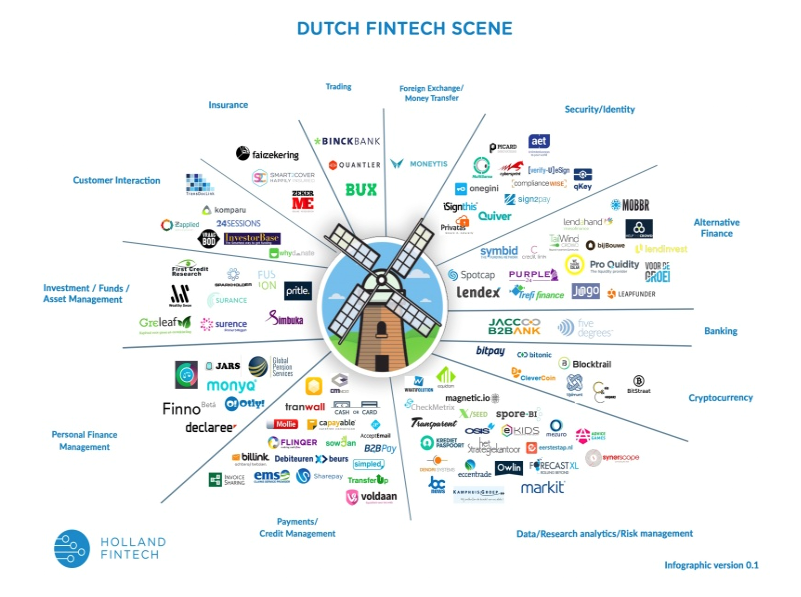 The infographic shows that, perhaps inspired by Adyen, payment providers constitute a large share of the pie. Also data startups and alternative financing (crowdfunding example) are well represented in the Netherlands.
Dutch FinTech awards 2017
FinTech startups are disrupting the financial sector. Innovative companies are eager to please millions of frustrated banking customers. Investors are fascinated by the phenomenal profits made by banks struggling with outdated technology. Today, more and more money is being invested in FinTech. The Uber of the banking sector has not yet emerged, but this is only a matter of time. On April 21 the Dutch FinTech Awards 2017 will be held in Utrecht at the Rabobank Headquarter. The panel of judges of this years event consists of seasoned investors, academics, marketeers, entrepreneurs with an extensive track record in finance and/ or technology.  (http://www.fintech.nl).  The author of this article is one of the judges
Future
What we see in practice is that components of banking products and services are being redeveloped by the FinTech Industry.
These FinTech solutions are smarter, faster and better.
As a result we now see that different FinTech companies will work together. The individual Fintech products often turn out to be complementary to each other.
FinTech companies now recognize that collaboration with other FinTech companies leads to high growth and a better product range.
The Uber of the banking sector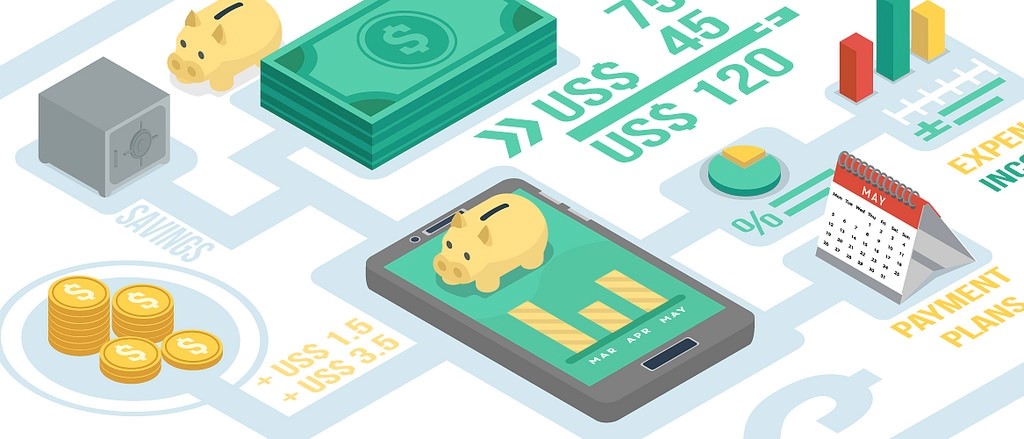 The Uber of the banking sector has not yet emerged, but this is only a matter of time.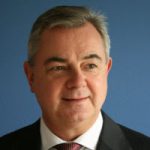 Associate Partner
https://treasuryxl.com/wp-content/uploads/2017/02/Fintech-1.jpg
200
200
treasuryXL
https://treasuryxl.com/wp-content/uploads/2018/07/treasuryXL-logo-300x56.png
treasuryXL
2017-02-22 07:30:23
2020-07-02 16:13:54
What's FinTech and how does it change the financial world?