27-06-2022 | treasuryXL | CashAnalytics | LinkedIn |
Data-driven cash flow forecasting is typically highly automated. Automated data heavy lifting and analysis are necessary to make the process sustainable. Read now the latest section of this guide to adopting data-driven cash forecasting in your business.
---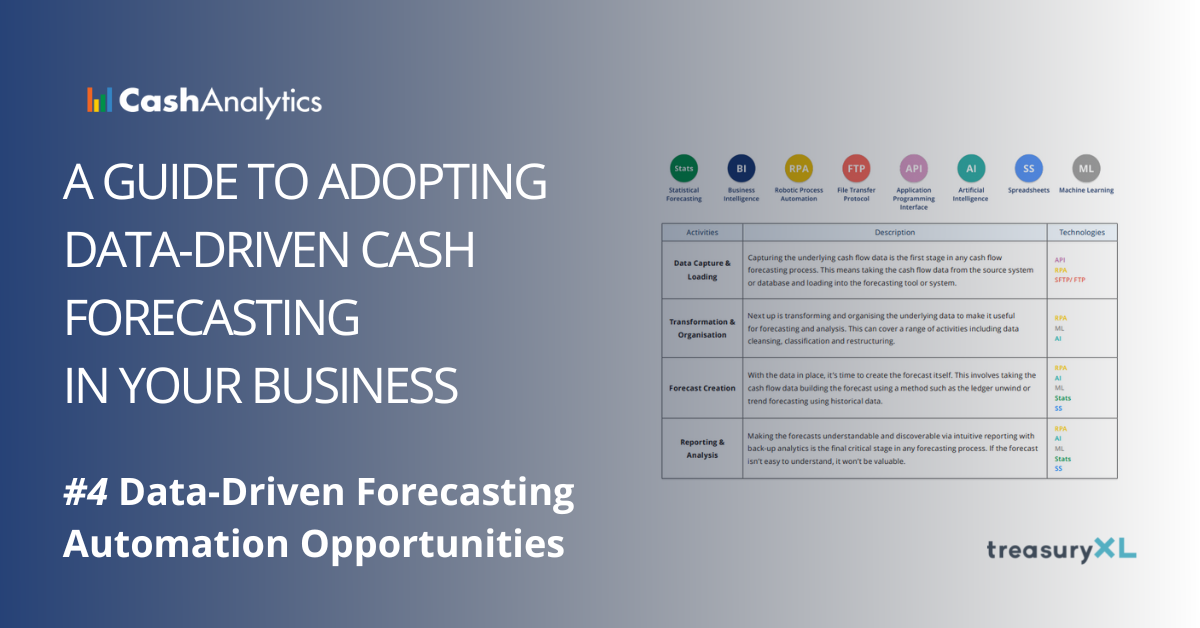 ---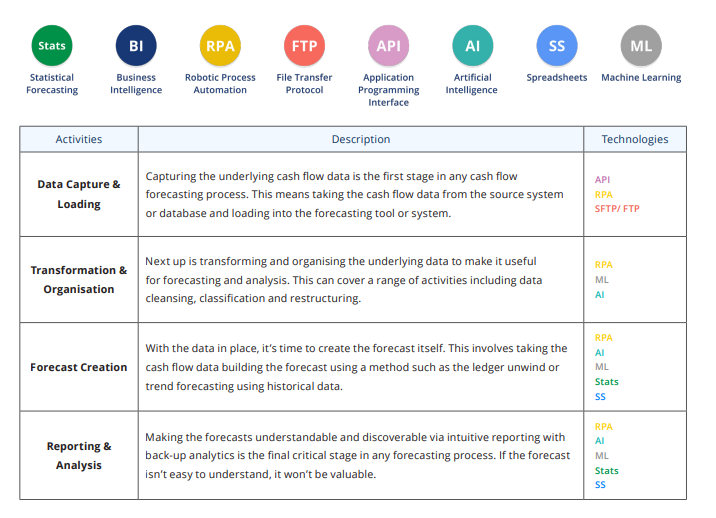 With CashAnalytics, you can automate the cash flow forecasting process to reduce manual work and reporting time by more than 90%. The tool integrates with data sources to simplify organisation-wide data collection. Use the solution to:
» Autogenerate forecasts using bank and ERP data.
» Rapidly turn budgets into cash forecasts.
» Collect data right from organisation users via centrally controlled forecast models.
» Automatically monitor company cash movements.
CashAnalytics streamlines the cash forecasting process from start to finish for the most up-to-date and accurate forecasts for your business.
---
Use CashAnalytics to automate your data-driven forecasting
You now know the ins and outs of data-driven cash forecasting. And you're equipped with the knowledge on data sources, methods, and more to create a more accurate, up-to-date forecast driven by data.
But there is one more element that will make the process even easier — a tool. CashAnalytics is on a mission to help companies better understand their current and future liquidity positions.
With CashAnalytics, gone are the days of tedious manual forecasting. After all, why would you invest countless hours of work into compiling forecasts on spreadsheets when you can automate the process? This software connects with your data sources for automated data-driven forecast creation.
"[CashAnalytics] is a tool that removes the chance of human error. Anything to do with Excel carries a risk," says the head of treasury at a large travel agency operator. "It's quick and effective. Reporting is easy, you can slice and dice information to your requirements. Something that might have taken a week to do, you can do in hours."
CashAnalytics is different from other solutions in the depth of functionality and intuitive interface it provides, the speed at which they can be rolled out, and the ease with which they can integrate with existing systems. On top of that, the tool offers a high level of ongoing support to clients.
To see the software in action and the value it can help deliver, contact us to book a demo now.