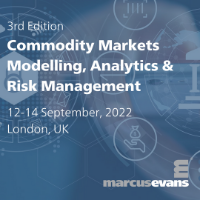 marcus evans | 3rd Edition Commodity Markets Modelling, Analytics & Risk Management | 12-14 September | London
30-06-2022 | treasuryXL | marcus evans | LinkedIn |
We are proud to announce our media partnership with marcus evans group for the 3rd Edition Commodity Markets Modelling, Analytics & Risk Management conference taking place in London on 12-14 September 2022.
London, UK
12 – 14 September, 2022 | 08:30 BST
---

---
There are many challenges involved with Commodity Markets Modelling. A major one at the moment is the volatility within the energy markets, specifically the spike in the price of energy including gas throughout the European and world markets. Another challenge which has been there for slightly longer is the generating and accessing of quality data which can feed modelling, in particular AI and machine learning models. There also exists a specific challenge around the modelling of renewables which has become an area of increased interest over the last few years. Finally, there is always a push to have new techniques which can help to improve the performance of trading teams in a very competitive market.
With this in mind, the marcus evans 3rd edition Commodity Markets Modelling, Analytics & Risk Management conference held between 12-14 September, 2022 in London, UK will provide the much-needed techniques on optimising modelling and trading within commodity markets. The event will deliver attendees tailored sessions on accessing the best data types to assist accurate modelling and forecasting. Practical solutions will be delivered regarding battery storage and modelling of intermittent weather sources such as wind and solar energy. Finally, new innovation tools which can assist traders and decision makers in commodity markets spaces will be explored and evaluated.
Attending This Premier marcus evans Conference Will Enable You To:
Obtain the best practices for quantitative modelling in commodity markets
Appreciate the current need to adjust existing quantitative modelling and trading techniques
Overcome the limitations caused by spikes in energy price data
Assess business priorities in consideration of macroeconomic change
Ensure your institution is insulated from market volatility
Best Practices and Case Studies from:
Michael Haigh, Managing Director, Global Head of Commodities Research, Societe Generale
Cetin Karakus, Global Head of Quantitative and Analytical Solutions, BP
Barbara Lempp, CEO of EFET Deutschland, European Federation of Energy Traders
Richard Fu, Head of Commodities, Shanghai Pudong Development Bank
Mario Dell'Era, Quantitative Market Risk Senior Manager, Citi
Emmanuel Gincberg, Managing Director – Quantitative Strategist, Macquarie Group
---

---
Special discounts available to Treasury XL subscribers! For more information please contact Ria Kiayia, Digital Media and PR Marketing Executive at [email protected] or visit: https://bit.ly/3HvwFYs
---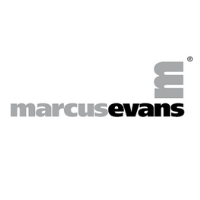 https://treasuryxl.com/wp-content/uploads/2022/06/marcus-evans-200-1.png
200
200
treasuryXL
https://treasuryxl.com/wp-content/uploads/2018/07/treasuryXL-logo-300x56.png
treasuryXL
2022-06-30 07:00:12
2022-06-27 15:22:06
marcus evans | 3rd Edition Commodity Markets Modelling, Analytics & Risk Management | 12-14 September | London