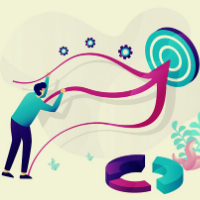 | 24-04-2020 | Stichting MKB Financiering | treasuryXL
Our Expert Ronald Kleverlaan, Chairman Stichting MKB Financiering, recommends the must read blog from Fons Huijgens with answers to the opposed question by presenting various examples.
The corona crisis is disrupting society. Social quarantine, education at the kitchen table, public transport cut in half, museums closed, restaurants and cafes closed, events postponed, sports suspended, music and club life suspended. Ordinary people are numb, dazed, in a sense disoriented. And in the meantime, people in the health and care sector and all related supplies and services are under high voltage and perform impressive. That said, there is not only concern for people's health, but also for the health and survival of companies. The crisis has immediately degenerated into a life-threatening liquidity crisis for companies. Where do you get money NOW if the combination of bank financing, government measures and non-bank financing offers insufficient relief? Brainstorm with your colleagues and dare to take unorthodox measures.
Blog continues in Dutch language.

Hoe creëer je NU extra liquide middelen?
Spaarkopen
Bied afnemers een spaarsysteem aan in combinatie met korting. Bied op deze wijze de klant de mogelijkheid een (grote) aankoop op termijn te doen. Geef bijvoorbeeld op het totaalbedrag een korting van 10% plus op de maandelijkse vooruitbetaling een rente van 5% op jaarbasis. De klant krijgt gedurende de spaarperiode 5% rente (vergelijk dat eens met de huidige spaarrente) plus een korting op de aankoop.
Waardebonnen
Vergelijkbaar met spaarkopen, maar dan gemakkelijker overdraagbaar. Je verkoopt waardebonnen van bijvoorbeeld € 100 bestedingswaarde voor een prijs van € 90. Men kan deze bonnen nú kopen en pas inleveren vanaf bijvoorbeeld 1 juni.
Ketenafspraken
Kijk met welke zakenpartners in de keten tijdelijk afwijkende afspraken zijn te maken. Bespreek een tijdelijke (3 maanden) huurverlaging van 30% die bijvoorbeeld wordt terugbetaald door op termijn gedurende 6 maanden 15% extra huur te betalen. Beoordeel op deze manier alle leveranciers van producten en diensten en selecteer diegene waarvan je verwacht dat tijdelijke afspraken kansrijk zijn.
FFF
De term FFF staat voor 'Family, Friends and Fans'. De zogeheten inner circle van de ondernemer. Het betreft mensen die jou goed kennen. Ze kennen jou vooral als mens, die een onderneming heeft. Durf een beroep op hen te doen. Soms hoor je "met vrienden doe je geen zaken, met vrienden ga je naar de kroeg"… Alles is anders in Coronatijd. Die kroeg is dicht en die vrienden krijgen 0% rente op hun spaarrekening. Durf te vragen. Maak wel goede, zakelijke afspraken. Je zult ontdekken: het word je gegund.
Abonnementen
Verkoop je een zich herhalende dienst of product en val je onder de lockdown? Bijvoorbeeld kapper, restaurant, bar, etc. Door de lockdown is de geldstroom abrubt tot stilstand gekomen. Misschien kun je reeds nu aan klantenbinding werken voor over een paar maanden. Biedt nu abonnementen aan met iets extra's, die men na de lockdown kan verzilveren.
https://treasuryxl.com/wp-content/uploads/2020/04/mknfinan1.png
200
200
treasuryXL
https://treasuryxl.com/wp-content/uploads/2018/07/treasuryXL-logo-300x56.png
treasuryXL
2020-04-24 07:00:27
2020-04-23 12:10:42
How to start money flow by using creative sources of financing