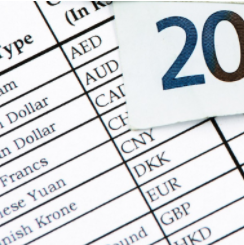 26-04-2021 | Erna Erkens | treasuryXL |
Als u Internationaal handelt of u wilt beleggen in vreemde valuta kan een Vreemde valuta rekening interessant zijn. U kunt zo'n rekening bij de meeste Nederlandse banken openen. Op een vreemde valuta rekening heeft u geen  geldbedragen in Euros's staan, maar in een buitenlandse vreemde valuta. Denk aan de Amerikaanse Dollar of de Japanse Yen. U kunt alleen girale transacties doen vanaf uw vreemde valuta rekening. Direct geld opnemen is niet mogelijk.  Dan gelden er andere koersen.



Een vreemde valuta rekening voor internationale handel
Stel u heeft een bedrijf waarvoor u goederen wilt inkopen uit Azië. U heeft een goede leverancier gevonden, maar deze wil wel graag in dollars betaald worden. U heeft bij uw bank alleen een Euro rekening en betaalt daardoor de factuur in Euro's. In deze situatie is uw bank verantwoordelijk voor de aankoop van de benodigde dollars.
De aankoop van de dollars door de bank wordt geregeld via een centraal betalingsverkeersysteem. De bank is in dit soort situaties niet altijd even aardig voor haar klanten. De bank rekent meestal ongeveer 1 cent marge voor iedere transactie.
Stel dat u uw leverancier uit Azië een bedrag van 100.000 dollar moet betalen. Uw bank rekent in dit geval  tot 600 euro marge. Deze marge gaat weer af van uw eigen winstmarge.
En wat dacht u van grotere transacties zoals 1 miljoen dollar. Dan betaalt u de bank 5.000 tot 6.000 Euro's aan marge!
Door zelf een dollarrekening te openen houdt u de aankoop van dollars in eigen hand en dat levert dus direct winst op.
Wisselkoers bij een vreemde valuta rekening
Als u een vreemde valuta rekening heeft geopend kunt u zelf bepalen op welk moment u de dollars
koopt om de factuur in dollars te betalen aan uw leverancier. Wel is het belangrijk dat het binnen uw bedrijf duidelijk is wie deze taak op zich neemt. De kosten (lees marge voor de bank) is dan een stuk lager. Hetzelfde geldt natuurlijk als u vreemde valuta ontvangt uit het buitenland. U kunt uw vreemde
valuta op deze rekening boeken. U kunt zelf bepalen op welk moment u deze weer verkoopt.
Degene die verantwoordelijk is voor betalingen vanaf de vreemde valuta rekening heeft wel een extra taak en het is wel handig om de wisselkoersen in de gaten houden. Dat kan helpen om de dollars of andere valuta op een goed moment te kopen of te verkopen.
https://treasuryxl.com/wp-content/uploads/2021/04/ed.png
245
244
treasuryXL
https://treasuryxl.com/wp-content/uploads/2018/07/treasuryXL-logo-300x56.png
treasuryXL
2021-04-26 07:00:06
2021-04-23 08:37:09
Save money instantly with a Foreign Currency Account (Dutch Item)