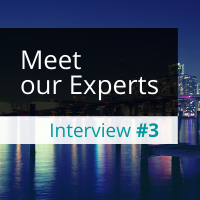 09-06-2020 | Aastha Tomar | treasuryXL
Aastha Tomar has joined treasuryXL at the beginning of 2020 as expert and already published 3 great blogs:

Aastha has been responsible for setting up of Treasury teams for her organizations from scratch and has been a founder member of FX Treasury in a Bank. Being in front office role throughout her career has made her indispensable for her organizations due to her business development and stakeholder management skills. She has single handed led transactions to the tune of USD 5Bn.
Aastha is an Electrical Engineer and master's in finance, both from premier institutes in India. Her inquisitiveness to learn something new and accept challenging work is responsible for her stints in Software development, Investment banking, Banking and Entrepreneurship.
In her free time Aastha loves to write blogs/ articles on various topic ranging from leadership, life experiences and sustainability, her latest love.
We asked her 9 questions, let's go!
1. How did your treasury journey start?
My first exposure to how Treasury actually works was quite early during my internship in my MBA. I was lucky enough to do internship in one of India's largest Corporate Treasury. It was then I decided that I want to make my career in Treasury. Therefore my career choices after MBA were always made while keeping in mind that I have to move towards being a corporate Treasurer.
2. What do you like about working in Treasury?
Treasury is a very fascinating department, there doesn't goes even a single day where you don't learn something new. Every day brings a new aspect to the profile. You have to be on your toes always to be up the curve which is the best part. You are always on top of what is happening in the world and how it is impacting the business. You can always make a positive impact on organisation's bottom line by being always ready with action of any kind of impact.
3. What is your Treasury Expertise?
I have worked in Corporate finance, fixed income financing through loans and capital markets and have worked in FX Treasury which included risk management, interest rate risk management and FX risk management.
4. Do you have examples of risk mitigation, creation of opportunities and/or cost savings?
I was responsible for ISDA negotiations where we always made sure that default covenants for the counter party are strict and always made sure that the covenants are adhered to and did frequent monitoring for the same. This always kept us informed and saved us from any shocks from covenants default which in turn would have led to default in the derivatives done with the counter party.
5. What has been your best experience in your treasury career until today?
I was the founder member of Treasury in my previous organisation. I joined the organisation before the bank was formed. The initial few months were very demanding as it involved infrastructure set up, documentation, informing corporations about our bank.  After much hard work and after few months I cracked one of the biggest deal for that year for my bank. It was such a nice experience where all your efforts which you put in finally bore fruit.
6. What's the most important lesson that you've learned as a treasurer?
Time is for essence for a Treasurer, we have to take actions swiftly and seamlessly. Each day is different and bring new challenges therefore a Treasurer should be ready to face them  . Always think out of the box- what new products can be used, how to make most use of technology, how make a team which is self motivated and work towards a common goal.
7. The coronavirus is undoubtedly an unprecedented crisis. In general, can you elaborate on the impact this virus has on treasury from your perspective?
The corporations with strong risk management approach, with clear understanding potential risk on business through risk evaluation tools, such as sensitivity analysis, shall be the best place during the current scenario. They would have their foreign currency exposure hedged to an optimum limit, sufficient cash to work with and therefore, during these times, would be able to direct their efforts to improve operational efficiency, carry out M&A evaluations  rather than trying to learn swimming after being thrown in the waters. Business Continuity Management came into play and the organisations which has BSM only in theory in their policy books took lot of time to adjust to the new normal. Thus, COVID 19 brings additional responsibility of treasury towards ensuring corporations not only survive but thrive during the new normal.
8. What developments do you expect in corporate treasury in the near and further future?
One thing has been proved that there is no running away from the Technology. You may be in finance field but you got to know the technology as well. The major development which now will take place will be to reduce as much human intervention as possible in the working of Treasury which will make sure that if at all any such scenario is faced in future work can go on without much impact.
9. How have you seen the role of Corporate Treasury evolve over the years?
I answered this question in my article "The Missing Part of a Treasury Job Description":
" Gone are the days when a Treasurer was just involved in risk management and ensuring liquidity. In current scenario of news going viral each action creates a ripple effect. As famous Jane Goodall once said : "You cannot get through a single day without having an impact on the world around you. What you do makes a difference, and you have to decide what kind of difference you want to make". A Treasurer has to take an active role in policy making and lead her organization towards sustainability and protecting consumers  "
FX & Derivatives | Debt Capital Markets | MBA Finance |
Electrical Engineer | Sustainability

Does your business need support in Treasury or a Treasury QuickScan?
https://treasuryxl.com/wp-content/uploads/2020/06/Meet-our-experts-3.png
200
200
treasuryXL
https://treasuryxl.com/wp-content/uploads/2018/07/treasuryXL-logo-300x56.png
treasuryXL
2020-06-09 07:00:23
2020-06-03 14:19:44
Meet our Experts - Interview Aastha Tomar