| 20-12-2019 | by treasuryXL |
treasuryXL started its' community in 2016. treasuryXL is a community platform for everyone who is active in the world of treasury and build by a network of highly valued partners and treasury experts who bring the treasury function to a higher level.
treasuryXL keeps its' community up-to-date with daily treasury news/blogs, events, vacancies that are published on the website and on social media. At the end of the week, just before the weekend starts, everyone who is subscribed to the free treasuryXL newsletter receives a recap of the week.
At the end of 2018 we decided to do things differently. We started a search to find a new Community and Partner Manager. At the end of April we embraced our new Community & Partner Manager, Kendra Keydeniers, who decided to evaluate the foundation of the treasuryXL platform and enhance it from there. This resulted into some major changes that are reflected on our website, social media and partner network.
We will take you with us through our 2019 timeline, let's go: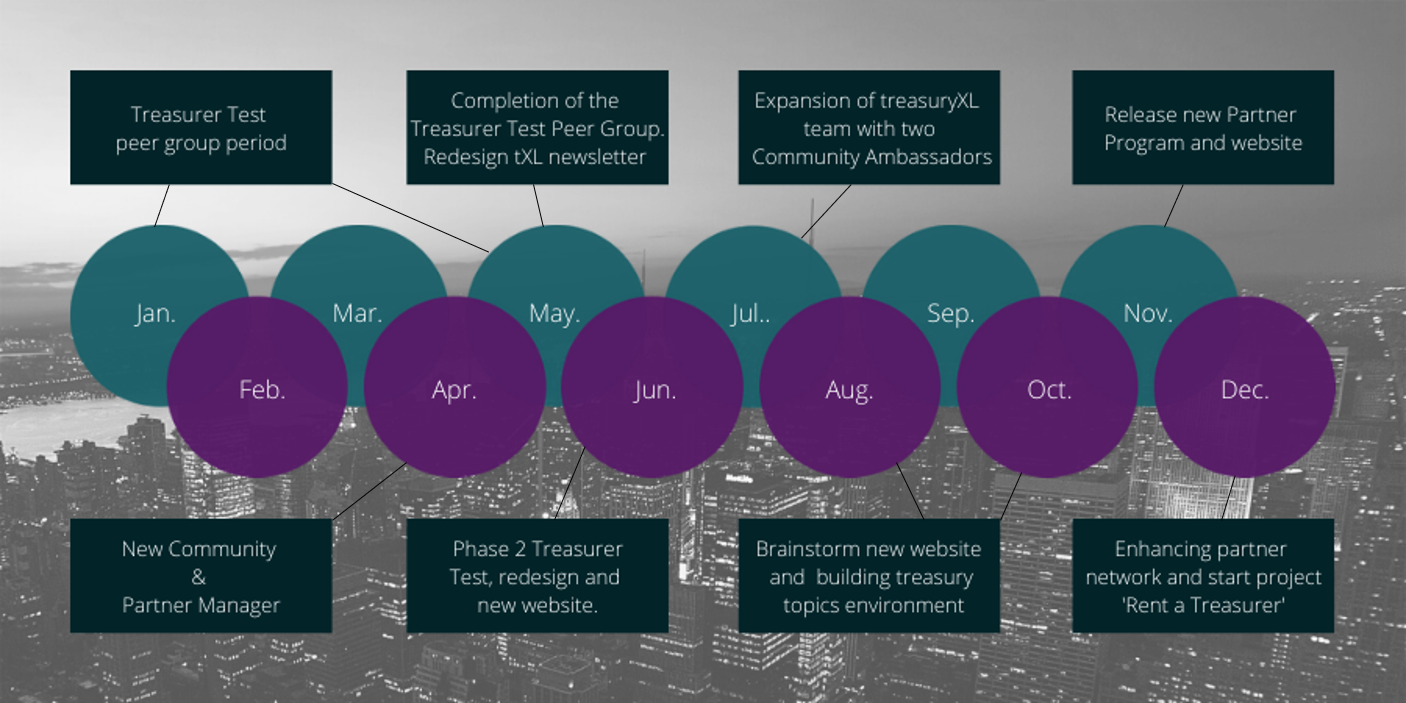 Our timeline shows you that we never sit still and continue building. The changes in 2019 also resulted in an impressive community increase of followers on social media, website visits and newsletter subscribers. We doubled the number of newsletter subscribers, tripled the number of followers on LinkedIn and our website visits increased over 50%. In 2020 we will continue to improve the quality of our community. You will hear a lot about projects like 'Rent a Treasurer', the Treasurer Test, Partner & Expert round tables and more. Let us surprise you in 2020!
Thanks for being part of the treasury community. We are always striving to improve and increase our community, so keep in mind that we love to hear ideas, feedback and other opportunities within the World of Treasury.
Wishing you a great holiday season and let's make 2020 a year not to forget!
Cheers,
https://treasuryxl.com/wp-content/uploads/2019/11/new-york-city-backgrounds_010648878_143.jpg
1600
2560
treasuryXL
https://treasuryxl.com/wp-content/uploads/2018/07/treasuryXL-logo-300x56.png
treasuryXL
2019-12-20 07:00:26
2019-12-23 10:04:48
The 2019 timeline of treasuryXL: It has been a wonderful year!