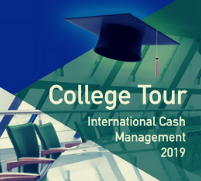 College Tour International Cash Management 2019
| 04-11-2019 | treasuryXL | Vrije Universiteit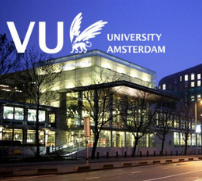 The treasurer's professional environment is changing rapidly. Alongside the classic management of capital flows, treasurers are confronted with ever-increasing legislation. In addition, fintechs and cryptocurrency offer solutions which compete with traditional banking services. The International Cash Management module of the RT programme covers these topics extensively, clustered in several units. The Cash Management Fundamentals unit includes working capital management, liquidity forecasting and liquidity management. In addition, the structure of international banking is covered in detail. The role of correspondent banking, the principles of international payments and the main payment systems are examined in depth. In this context, the module also deals with the information technology which businesses require to create the interface with banking payment systems. Naturally, this covers the latest technological developments, including blockchain. The module also expands on netting and cash pooling techniques, the relationship with financial institutions and the organisation of an international treasury department. An overview of the legal and fiscal aspects is also included. Case studies are used to supplement the extensive practical knowledge provided.
Course Content
Management Account Structures: pooling Techniques, cash pooling, netting, tax and accounting impact
Working Capital Management: cash conversion cycle, working capital management, short term finance
Trade & Commodity Finance: identifying trade risks, trade instruments, trade finance solutions
Payment Services: payment instruments, collection instruments, clearing, bank connectivity
Relevant regulatory environment: Basel III, PSD2, bank relationship management
Cash flow forecasting methods
Treasury Management Systems: overview, treasury functions and evolution, selection of a treasury management system, implementation
Fintech: Payment innovations, Blockchain, Crypto currency
Course features
Primarily, the course gives an overview of this treasury
discipline, focussed on everyday practice and the latest
developments in this area. Sessions are interactive and
delivered by lecturers active in this field. There is an
opportunity to put knowledge sharing into practice with
the help of a game and case studies.
Exam/exemption
There will be an end-of-module examination. Participants
passing the examination will receive a certificate. This
certificate counts towards an exemption when enrolling
for the post-doctorate Treasury Management & Corporate
Finance programme; course language – English.
Coordination and lecturers
Professor Wilko Bolt (DNB) and Professor Herbert Rijken
(VU) will be the key lecturers for this module. Other lecturers will
include Rolf Michon and Nanno van der Werff.
Sybrand de Groes is responsible for the coordination of
this module. Maximum number of participants: 25
Admission requirements
The course is at Bachelor level. It is assumed that you
have work experience in the field of cash management.
Tuition fees & registration
The tuition fees are € 3,950. If there are enough places,
non-DACT members may also participate. The tuition
fees for non-members are € 4,750.
Send an email to [email protected] if you wish to register.
Location
VU Universiteit, Hoofdgebouw, Agora Zalen Complex,
De Boelelaan 1105, Amsterdam.
Course schedule
The course includes 8 double lectures (2 x 2 hours) each
week on Thursdays, starting Thursday 14 November 2019,
ending on Thursday 16 January 2019 (note: the lecture
planned on Thursday November 14, 2019 will be organized
in De Leeuwenhorst in Noordwijkerhout where the DACT
Treasury Fair will be held). Lectures are from 15:30 –
17:30 hours and 18:15 – 20:15 hours, including a meal.
The examination date is on Thursday 23 January 2020.
DOWNLOAD COLLEGE TOUR LEAFLET
https://treasuryxl.com/wp-content/uploads/2019/11/college-tour-201x181.png
181
201
treasuryXL
https://treasuryxl.com/wp-content/uploads/2018/07/treasuryXL-logo-300x56.png
treasuryXL
2019-11-05 15:02:45
2021-03-23 14:14:33
College Tour International Cash Management 2019