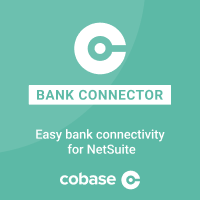 Cobase bank connector for NetSuite
31-03-2022 | Cobase | treasuryXL | LinkedIn |
The Cobase Bank Connector app adds to NetSuite an interface with banks. Therefore, employees are no longer forced to perform manual banking activities outside NetSuite and several electronic banking portals accordingly, which may lead to potential errors and security issues. No longer a tedious and time-consuming process for your colleagues. The Cobase Bank Connector automatically downloads bank statements from your banks and uploads them into NetSuite, ready to be picked up for reconciliation. Payments and direct debit (batches) are automatically sent in a secure way to the banks.
Stay tuned as Cobase expects to come up with a similar application for other Cloud ERPs soon!
---

---
Out-of-the-box bank connectivity for NetSuite, with over 15,000 banks integrated via the Cobase platform! The solution removes the manual processes to upload payment files and reporting statements. With the Bank Connector SuiteApp for NetSuite, the Cobase platform is fully integrated with your NetSuite ERP system. You can automatically transfer your payment and direct debit (batches) in a secure way to Cobase and with the flexible approval flow, they are transferred to all your banks. Bank statements are automatically downloaded from your banks and delivered in NetSuite, ready to be picked up for reconciliation. Simple!
Cobase Bank Connector – Easy and seamless banking integration for NetSuite
Cobase bank connector for NetSuite has been developed specifically to:
Reduce the operational inefficiency of managing multiple bank accounts and payment providers manually.
Remove the IT complexity from your organization.
Eliminate the security risks of critical information being accessed, amended, or intercepted externally, and invisibly, to your core business systems and processes.
Easy automated bi-directional integration between NetSuite, Cobase and all your banks for payment files and reporting statements
Cobase offers off-the-shelf direct connections in the most optimal way to most major global banks. But we also implement on-demand bank connections to all requested banks. We can support this for all required bank protocols, bank security, bank formats and all required payment products in more than 100 countries already
Besides delivering the aggregation platform with portal and the NetSuite bank connector app we also take care of the implementation effort towards the banks and Payment service providers.
Next to delivery of bank connectivity, there is more! Cobase can also offer additional services on their platform like:
Payment- and cash management– HUB functionality with centralized user management module

Manual initiation of single payments, batches and direct debits
Modify payment and batches

Easy connection with the payments and reporting flows of PSD2
Liquidity forecast module, to analyse your balance and cash position.
Robo-assistant to monitor your balance positions.
All modular-based, meaning you only pay for what you use!
Simple!
Key Benefits
NetSuite integrated solution: Cobase bank connector for NetSuite is an easy to install built for NetSuite solution to connect to the Cobase platform. It can be used for both payment file upload and bank statement download to your banks.
Eliminates manual and inefficient processes: Cobase Bank Connector SuiteApp for NetSuite automatically transfers your payment files via Cobase platform to your banks and downloads the bank statements back in NetSuite ready to be picked up by your reconciliation tool.
Be compliant with your risk policies: Eliminating the touchpoints where a payment (batch) can be changed reduce your operational risks.
Integration to all possible banks and PSP's: Connection via the Cobase multibank platform to all banks in a centralized way
Supported by a professional implementation team: Your bank connectivity setup is guided by a professional team that communicates with you and your banks to set up the connections in the best and fastest way.
Easily extendible with additional cash management and treasury modules: integrate with a real (mini) Treasury Management System
Summary
Cobase Bank Connector for NetSuite is a 'Built for NetSuite' solution which helps organizations eliminate inefficient and risky manual processes to:
upload payment files to your banks
download reports and statements from all your banks
---
Features of Cobase Bank Connector

Seamless Bank Integration
Cobase manages the integrations from the platform to most major national and international banks and payment service providers (PSP's) as standard
All kinds of bank protocols and interfaces supported (EBICS, SWIFT & H2H (PSD2) API Integrations)
Simple, Secure & Controlled
Manage permissions and access at the user or role level
Full audit trail of all actions including time, date and user stamp
Multi-factor authentication to log in to the Cobase portal
Single Point of Access to all Accounts
No need to log in and out of individual electronic banking portals
Extendible with Additional Cash Management and Treasury Capabilities
Payment and cash management with centralized user management module
Easy connection with the payments and reporting flows of PSD2
FX dealing and hedging, with an easy hedge tool to manage your risks.
Liquidity forecast module, to analyze your balance and cash position
Robo-assistant to monitor your balance positions
---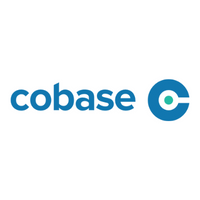 https://treasuryxl.com/wp-content/uploads/2022/03/NetSuite-200x200-Treasury-XL.png
200
200
treasuryXL
https://treasuryxl.com/wp-content/uploads/2018/07/treasuryXL-logo-300x56.png
treasuryXL
2022-03-31 07:00:30
2022-03-31 08:28:20
Cobase bank connector for NetSuite