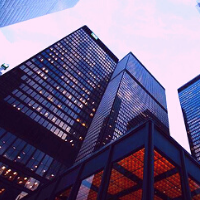 | 11-6-2020 | treasuryXL | Kyriba |
Managing liquidity has never been easy, but new technologies are making it easier. With ease comes speed, accuracy and efficiency, enabling treasury to more effectively see, move and protect cash and generate increased business value. However, activating liquidity while navigating volatile markets can be difficult. So how does treasury leverage technology to activate liquidity and generate new growth, and what does it gain by doing so?

'7 Experts on Activating Liquidity' is a Mighty Guide, sponsored by leading global cloud treasury and finance solution provider Kyriba.  In this guide the question of how to leverage technology to optimise treasury and finance, extend visibility and controls, and maximise enterprise value is explored by asking seven treasury management experts from different industries the following questions:
How does expanding the scope of treasury to be inclusive of cash, risk, payments and working capital increase enterprise value?
How do you most effectively manage FX risk exposure, and why is it important to do that?
What are the advantages of centralizing and standardizing global payment processes through a single system?
What are the advantages of centralizing the management of free cash flow and liquidity in your organization?
What level of integration is necessary to get a true, real-time view of cash and liquidity, and how would that real-time data enhance decision making and performance?
Their insights are collected in the five chapters of this eBook. In reading them, David Rogelberg, Editor, was struck by how different the challenges are for each of the expert's business, and how they all benefit from greater visibility into cash, payments, risk and working capital.
CFOs have a tough balancing act – trying to pursue strategic growth initiatives while minding the right level of risk. And recent global events have exacerbated this challenge. The answer to solving this problem lies in Active Liquidity – an approach to treasury and finance that elevates the impact of liquidity to generate new market value, even in volatile markets.

Kyriba is excited to sponsor this eBook, in which seven treasury leaders lend their expertise to the concept of Active Liquidity and the key pieces that it encompasses – optimizing cash, payments and risk to generate business value.  Activating Liquidity puts organizations on a path to new value creation, enabling them to:
Expand the abilities of treasury and finance, using liquidity as a lever to build value
Extend visibility and controls to see, move, protect and grow cash
Transform data into intelligence and drive action to maximize enterprise value
This Mighty Guide aims to provide a holistic view and credible advice by exploring, comparing and contrasting a variety of viewpoints from top experts.  The insights given by these treasury executives will give a deep understanding of the benefits of Active Liquidity and how insight into global cash, liquidity and exposure can help execute treasury strategies more easily and efficiently.
Request and download free e-book: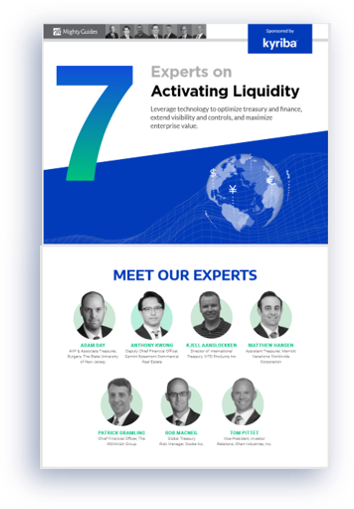 Kyriba is a proud sponsor of this Mighty Guide.  Kyriba empowers CFOs and their teams to transform how they activate liquidity as a dynamic, real-time vehicle for growth and value creation, while also protecting against financial risk. Kyriba's pioneering Active Liquidity Network connects internal applications for treasury, risk, payments and working capital, with vital external sources such as banks, ERPs, trading platforms, market data providers, and other financial institutions. Based on a secure, highly scalable SaaS platform that leverages artificial and business intelligence on an API-enabled architecture, Kyriba enables thousands of companies worldwide to maximize growth opportunities, protect against loss from fraud and financial risk, and reduce costs through advanced automation. Kyriba is headquartered in San Diego, with offices in The Netherlands, London, Paris, New York, Tokyo, Dubai and other major locations.
For more information, visit www.kyriba.com.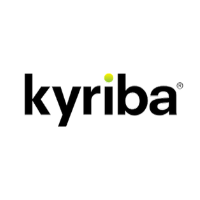 https://treasuryxl.com/wp-content/uploads/2020/06/teaser-kyriba.png
200
200
treasuryXL
https://treasuryxl.com/wp-content/uploads/2018/07/treasuryXL-logo-300x56.png
treasuryXL
2020-06-11 09:45:31
2020-06-11 10:23:10
7 Experts on Activating Liquidity – a Guide to Leveraging Technology to Generate New Growth