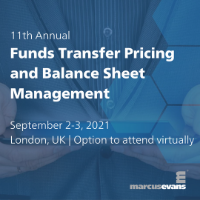 19-07-2021 | treasuryXL | Kendra Keydeniers | Marcus Evens
Manage and steer excess liquidity in the current climate through effective FTP strategy in order to achieve balance sheet optimisation.
London, UK or Virtual Attendance
2nd – 3rd September, 2021 | 08:30 BST

The COVID-19 crisis has shifted the banking industry's focus to balance sheet management, due to the volatility it has caused in the balance sheet. The impact of the move to a risk free rate, measures taken by authorities to incentivise lending throughout COVID-19 and the sustained low interest rate environment have posed a large amount of challenges for those in Asset Liability Management (ALM) and Funds Transfer Pricing (FTP). Banks should ensure FTP is not treated as a cost centre but as a tool to drive excess liquidity, grow assets to offset liabilities and ultimately target P&L volatility caused by COVID-19.
The marcus evans '11th Annual Funds Transfer Pricing and Balance Sheet Management' conference will provide banks with a platform to learn from practical case studies how to develop an efficient FTP model that achieves optimal balance sheet structure in the COVID era, as well as offer a glimpse into future developments surrounding liquidity risk to be able to anticipate demands and improve funding plans. Attend the conference in London on 2-3 September, 2021 or join virtually, and enjoy two days of practical case studies, panel discussions and networking opportunities.
Attending This Premier marcus evans Conference Will Enable You to:
Evaluate the cost of funding in relation to excess liquidity driven by customer deposits and regulatory support.
Steer liquidity and capital to manage the excess liquidity and prepare for potential absorption of this excess.
Achieve balance sheet optimisation to navigate through constraints and stress prompted by the COVID era.
Evolve FTP strategy alongside market developments such as customer behaviour and sustainability metrics.
Practical Insights and Case Studies from Industry Experts, some of which include:
Maros Hrnciar, Head of Financial Analysis and Budgeting, Raiffeisenbank
Dr. Thomas Ribarits, Director, Financial Risk Management, European Investment Bank
Anton Fuchs, Senior Risk Control, Landesbank Berlin AG
Heikki Koskinen, Head of ALM Analytics, Group Treasury, Luminor
Gerwin Scharmann, Head of Treasury, Santander Consumer Bank AG
Fitzarnaz Drummond, Executive Director, Goldman Sachs
Davide Vella, Head of Balance Sheet Management, Mediobanca
For more information please contact: Ms Ria Kiayia, Digital Media and PR Marketing Executive at [email protected] or visit: https://bit.ly/3hz5jp3
I wish you a great event!
Kendra Keydeniers
Director, Community & Partners at treasuryXL
https://treasuryxl.com/wp-content/uploads/2021/07/Funds-Transfer-Pricing.png
200
200
treasuryXL
https://treasuryxl.com/wp-content/uploads/2018/07/treasuryXL-logo-300x56.png
treasuryXL
2021-07-19 07:00:26
2021-07-20 17:22:48
11th Annual Funds Transfer Pricing and Balance Sheet Management | September 2-3, 2021