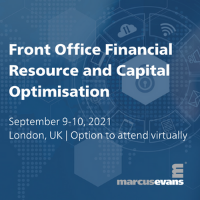 20-07-2021 | treasuryXL | Kendra Keydeniers | Marcus Evens
Optimising margin and capital consumption for derivative portfolios under margin rules, FRTB and SA-CCR through effective risk and trading strategy.
London, UK or Virtual
9th – 10th September, 2021 | 08:30 BST

Financial Resource Optimisation has become of paramount importance for trading businesses after a decade of increased regulation and diminishing margins. Banks are required to hold enough capital to absorb losses and in recent times the minimum requirement for capital in derivatives trading has increased due to the push towards central clearing, margin reforms, XVA and Basel regulations.
The increasing capital requirements, increases the cost of the derivatives business which makes it even more important for banks to allocate capital for optimal return. With smarter portfolio and day to day trading along with utilisation of technology to help identify opportunities and improve trading decisions, banks can manage to create a capital efficient product mix that meets regulatory demands and leads to optimisation of capital and resources in the front desk.
The marcus evans 'Front Office Financial Resource and Capital Optimisation' conference will bring you one step closer to creating the optimal capital focused business model in the current climate. Attend in London on 9-10 September, 2021 or join virtually, and hear insights from industry experts on how to optimise margin and capital consumption for derivative portfolios under margin rules, FRTB and SA-CCR through effective risk and trading decisions.
Attending This Premier marcus evans Conference Will Enable You to:
Assess the impact of regulation such as UMR, SACCR, leverage ratio and FRTB on capital.
Establish a dynamic portfolio that can take advantage of opportunities for optimising margin and capital.
Consider the day-to-day trading decisions and how this impacts P&L and capital.
Exploit methods for financial resource optimisation such as technological opportunities, compression, innovation, etc.
Practical Insights and Case Studies from Industry Experts, some of which include:
Guillaume Dechambre, Director, XVA Strategy, BMO Capital Markets
Jesper Thye-Oestergaard, Head of Liquidity and Capital Analytics, Nordea Markets, Corporates and Institutions
Sandeep Shukla, Head of USD Swaps Trading, Natixis CIB Americas
Jean Jacques Kamdem, Global Head of Traded Credit Analytics, HSBC Global Banking and Markets
Thomas Rohold, Head of Financial Resource Management, Senior Vice President, Danske Bank
Matteo Angeloni, Director, XVA Trader, National Australia Bank
Andrew Green, Managing Director and XVA Lead Quant, Scotiabank
For more information please contact: Ms Ria Kiayia, Digital Media and PR Marketing Executive at [email protected] or visit: https://bit.ly/3r5lA8p
I wish you a great event!
Kendra Keydeniers
Director, Community & Partners at treasuryXL
https://treasuryxl.com/wp-content/uploads/2021/07/front-office-financial.png
200
200
treasuryXL
https://treasuryxl.com/wp-content/uploads/2018/07/treasuryXL-logo-300x56.png
treasuryXL
2021-07-20 07:00:02
2021-09-28 11:48:59
Front Office Financial Resource and Capital Optimisation | September 9-10, 2021