Richard Vianen is senior consultant bij Enigma Consulting, hetgeen is onderdeel van ProjectiveGroup. Richard heeft veel kennis over SEPA, het internationale betalingsverkeer, market infrastructure en ISO20022 XML. Deze maand verteld Richard in een reeks van een 3-tal artikelen meer over de achtergrond van de upgrade, welke wijzigingen de diverse SEPA-participanten vanaf november 2023 moeten doorvoeren en de gevolgen hiervan voor zowel de klanten als de banken.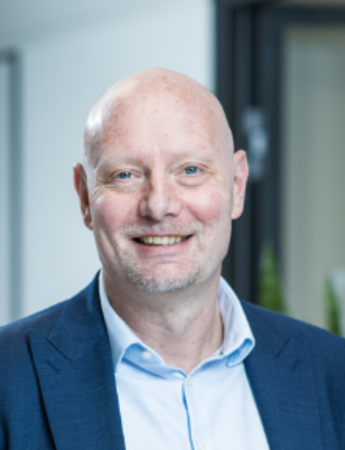 Richard Vianen


SEPA Rulebook 2023: essentiële eerste migratie stap naar SEPA 2025 Scheme
Om te voorkomen dat er in november 2025 een complexe 'big bang' migratie naar de nieuwe ISO20022 XML-standaard plaatsvindt, is er besloten de migratie in twee stappen op te delen. SEPA Rulebook 2023 is daarbij de belangrijke eerste stap. 

De hoofdpunten voor het SEPA Rulebook 2023 
Banken moeten onderling (interbancair) gebruik maken van ISO20022 XML v10 (2019).

 Adresgegevens mogen tot november 2025 ongestructureerd uitgewisseld worden.

 Bankklanten kennen een duale periode voor gebruik ISO20022 XML

Tot november 2025 mag ISO20022 XML v03 (2009) gebruikt worden

Met alle beperkingen van dien (geen gestructureerde adresgegevens, geen LEI, geen proxy/alias)

Vanaf november 2023 kan ISO20022 XML v10 (2019) gebruik worden

Adresgegevens mogen tot november 2025 ongestructureerd aangeleverd worden

Gestructureerde adresgegevens, LEI en proxy/alias zijn mogelijk

Banken moeten de keuze van de bankklanten ondersteunen

Bankklanten zijn vrij hun eigen migratiepad en tijdlijn te kiezen

Bank is verantwoordelijk voor vertalen van gegevens van de oude naar de nieuwe XML-versies en omgekeerd, zolang de bankklant niet gemigreerd is.

Banken mogen aangeleverde gestructureerde adresgegevens vervangen door ongestructureerde adresgegevens en andersom
Wat is de impact voor de banken?
Het ondersteunen van de nieuwe data-elementen is voor banken de grootste uitdaging. Data warehouses en datamodellen moeten aangepast worden. Dit heeft niet alleen impact de gehele betaalketen, maar ook op de ondersteunende processen die gebruik maken van adresgegevens. Denk aan Customer Due Dilligence (CDD), transactie monitoring en interne en externe rapportages. Al deze processen en systemen moeten voorbereid worden op het correct interpreteren van zowel gestructureerde als ongestructureerde adresgegevens.
Banken moeten bepalen wanneer deze wijzigingen doorgevoerd worden. Daarbij maakt het uit of klanten van de bank met behulp van ISO20022 XML opdrachten aanleveren en/of rapportages afnemen. 
1. Banken zonder klanten met ISO20022 XML aanlevering
Voor deze banken geldt dat per november 2023 het interbancaire betalingsverkeer overgaat naar de nieuwe ISO20022 XML versie. Omdat tot november 2025 interbancair nog ongestructureerde adresgegevens gebruik mogen worden, kunnen deze banken de interne migratie van uitgaande betalingsverkeer porcessen uitstellen tot uiterlijk november 2025. Voor inkomend betalingsverkeer zullen deze banken wel maatregelen moeten nemen om de gestructureerde adresgegevens en eventueel ontvangen LEI en proxy/alias te kunnen verwerken. Dit kan op korte termijn afgevangen worden door een slimme mapping naar het bestaande datamodel (bijv. gestructureerde adresvelden mappen naar ongestructureerde adresvelden). Bestaande primaire en ondersteunende processen kunnen dan vooralsnog zonder aanpassingen blijven werken en is er 2 jaar extra de tijd (tot november 2025) om deze processen aan te passen.
2. Banken met klanten met ISO20022 XML aanlevering en afname
Ook voor deze banken geldt dat per november 2023 het interbancaire betalingsverkeer over gaar op de nieuwe versie van ISO20022 XML. Daarnaast kunnen klanten van deze banken vanaf november 2023 gebruik maken van de nieuwe SEPA ISO20022 XML standaarden. Banken moeten dit ondersteunen. Concreet betekent dit dat de banken in november 2023 de bestaande datamodellen en datawarehouses moet hebben aangepast om met nieuwe en gewijzigde data-elementen van de nieuwe XML standaard (naast de bestaande!) om te kunnen gaan. 
Banken moeten bijhouden welke SEPA ISO20022 XML versie een klant gebruikt, en daarin met de klant te communiceren, zodat de klant maar met één versie van de SEPA ISO20022 XML te maken heeft.
Voor bankklanten die overstappen naar de nieuwe SEPA ISO20022 XML standaard zijn de inspanning van de bank, zodra het datamodel is aangepast, de inspanningen beperkt. Voor deze stroom uitgaande en inkomende opdrachten geldt immers dat de gehele keten 'klaar' is. Het interbancaire betalingsverkeer is immers ook al over naar de nieuwe ISO20022 XML standaard.
Voor klanten die wachten met migreren naar de nieuwe SEPA ISO20022 XML standaard zal de bank meer inspanningen moeten verrichten. Zolang een bankklant de oude ISO20022 XML standaard gebruikt, is de bank verantwoordelijk voor de vertaling tussen deze oude en de nieuwe (interbancair gebruikte) versie van de ISO20022 XML-standaard en vice versa.
Hoe dient de bank dit te doen? En kan de bank dit wel 100% dicht krijgen?
De kans is namelijk groot dat gestructureerd ontvangen adresgegevens niet passen in het ongestructureerde adresvelden. Daarnaast moet de bank zorgdragen dat originele en gerelateerde transacties, zoals retourbetalingen, dezelfde informatie bevatten. Wanneer dit niet het geval is, kan dit tot uitval leiden bij zowel de banken als de betrokken bankklanten,
De rapportage van transacties moet de originele data bevatten, foutieve mapping of afgekapte data kunnen problemen in de reconciliatie veroorzaken. Tot slot, zijn de nieuwe opties zoals de LEI lastig te vertalen naar de 'oude' ISO20022 XML standaard. 
Om de verandering soepeler te laten verlopen worden de banken door de EPC opgeroepen klanten te stimuleren al in november 2023 over te stappen op de nieuwe ISO20022 XML standaard om dit soort problemen te voorkomen.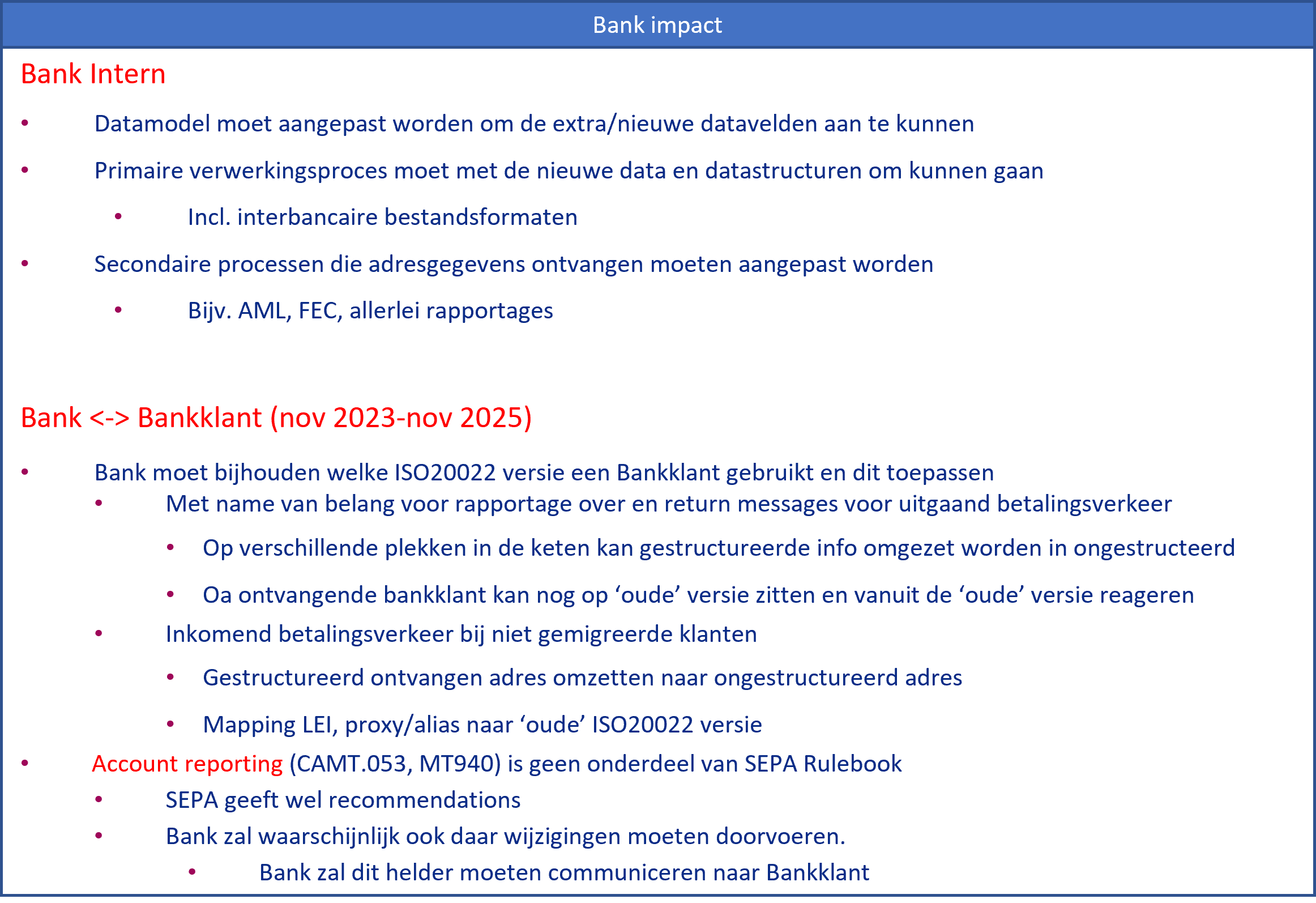 Can't get enough? Check out these latest items