| 26-10-2017 | François de Witte |
One of the main challenges in treasury is ensuring the connectivity with your banking partners. Currently corporates use the e-banking, or "electronic banking" channels. 'Electronic banking' can be defined as the way in which a company can transmit transactions and obtain reporting instructions to a bank remotely and electronically.
In the present article about bank connectivity, we will outline the current types of e-banking channels in the market, their advantages and the attention points.
Interactive banking channels
For interactive e-banking channels, typically the communication is initiated by the corporate client from a PC within the finance department and the instructions are transmitted to the bank through the internet.
Banks are developing their portals more and more: ING Business Payment, Connexis, KBC-Online, IT Line, RABO Corporate Connect, etc. They also provide a full range of services through them.
Illustration of the interactive electronic banking channel: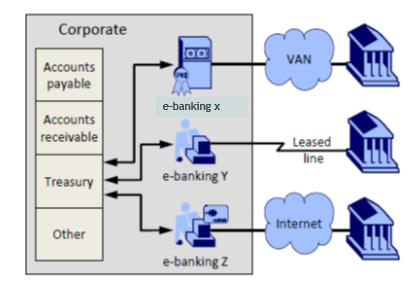 Currently the interactive- banking channels are widely used by corporates and other organizations, because they are easy to implement, user-friendly, enable to work on a standalone basis and less expensive. However, the drawbacks are that they are not always that suited for mass payments, and that each bank has its own system. Consequently, if you work with different banks, you will have different electronic banking channels for each bank, which adds to the complexity.
In some countries, the banks have put their efforts together to create a multibank interactive electronic banking channels (e.g. Isabel 6 in Belgium and Multiline in Luxembourg).
In my view, the interactive e-banking channel is best suited for corporates having not too high volumes of transactions and working with only few banks, or in countries were multibank electronic banking channels are available.
Host to host electronic banking channels
Some corporates or public institutions have very high volumes to treat, and will need for this a specific direct connection with their bank, a so-called "host to host" (H2H) connection. This is an automated solution for high volume data transfer between banks and their corporate clients.
Sophisticated H2H connectivity solutions give banks the flexibility to exchange information with their corporate clients in preferred file formats, agreeing on network protocols, and security standards.
The following figure illustrates this type of e-channel: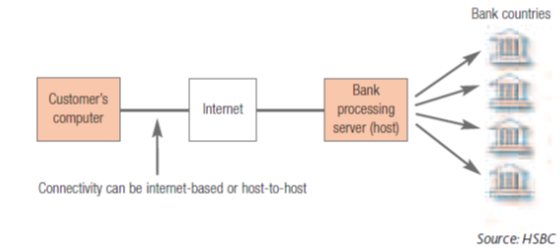 H2H e-banking channels allows for automated payments and collections, attended (where the client needs to take an action) or unattended (directly initiated by the IT system) connection / authorization. They can treat very high volumes, and to integrate the data into ERP systems.
However, they are also more expensive, because they require a specific IT set-up and usually the services of a middleware provider to ensure the connectivity between your ERP or IT system and the bank.
Up to some years ago, corporates had to set up H2H connections with each of their banks, but now several multibank H2H solutions have been developed by the TMS (Treasury Management Systems) providers or by other multibank providers such as TIS, MultiCash and Power2Pay.
In some countries, the banks have set up common interbank protocols enabling an easier and standardized connection. The best know is EBICS, which is currently in use in Germany and France.
In my view, the host to host banking e-channel is best suited for corporates having very large volumes of transactions and requiring a high level of integration with their ERP or IT systems.
SWIFT e-banking
SWIFT has extended from a bank-to-bank platform to a corporate-to-bank platform, and has also launched its own bank connectivity solution, SCORE (Standardized Corporate Environment). SWIFT enables hence to replace the various e-banking systems with a single, bank-neutral multibank e-channel. This means that treasurers and finance managers can connect with their banks worldwide in a consistent way using industry-recognized standards.
Outline of a SWIFTNET Multibank set-up (source SWIFT):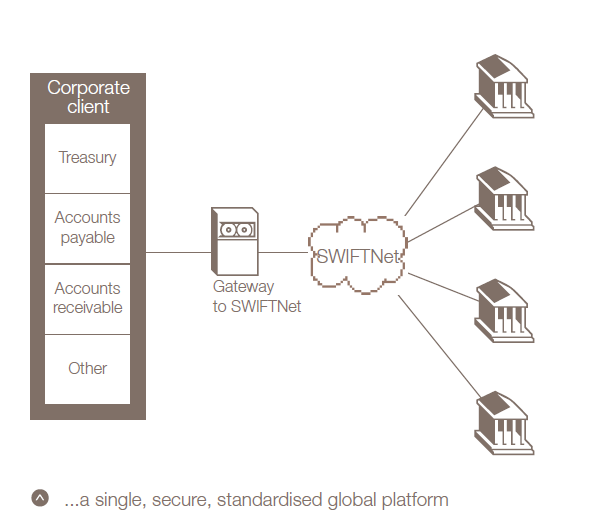 Companies can connect to SWIFT in many ways. One option is to establish a direct connection to SWIFT, but this can be a technically complex exercise. As a result, many of the companies connecting to SWIFT do so via a SWIFT service bureau. In such a set-up, most of the technical challenges are resolved by the service bureau
The third SWIFT connectivity option is Alliance Lite2. This solution enables corporates to connect to SWIFT in a quicker and less expensive way.
The SWIFT channel offers, beside the multibank character, many other advantages, such as the SWIFT standards, services beyond payments, such as FX and deposit confirmation and securities transactions, and an improved security / reliability compared to the classic e-banking systems
However, the Swift e-banking solution is not easy to implement, and can be quite expensive (in particular for the direct connection and the connection through a service bureau. Hence this solution is more suite for very large corporates and institutions, working with many banks.
Conclusion:
When looking at setting up the e-banking connectivity, several factors need to be taken into consideration, such as the number of banks and transactions, the complexity of the organization and the treasury. Smaller organization can perfectly work with the interactive e-banking channels, whilst larger and more complex organizations need to consider the multibank H2H connections or a SWIFT setup.
In the framework of PSD2, with the XS2A (access to accounts), banks in the EU/EEA will have to provide access to authorized third parties. I expect that thanks to PSD2 the cost of multibank e-banking platforms will go down, which is good news for corporates.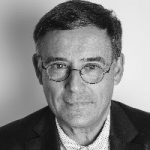 Founder & Senior Consultant at FDW Consult
https://treasuryxl.com/wp-content/uploads/2019/11/photo-1514565131-fce0801e5785.jpg
864
1424
treasuryXL
https://treasuryxl.com/wp-content/uploads/2018/07/treasuryXL-logo-300x56.png
treasuryXL
2017-10-26 08:45:29
2020-04-07 16:49:06
How to connect to your bank electronically