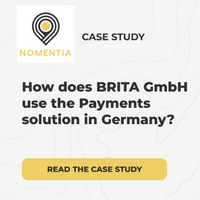 | 01-12-2021 | treasuryXL | Nomentia | LinkedIn |
BRITA GmbH, a German water filter manufacturer with total sales of 617 million euros in the business year 2020 and 2,205 employees worldwide at the end of 2020, is the market leader in drinking water optimization and individualization. The company is represented by 30 national and international subsidiaries and branches as well as shareholdings. Brita has manufacturing facilities in Germany, Italy, China and the United Kingdom.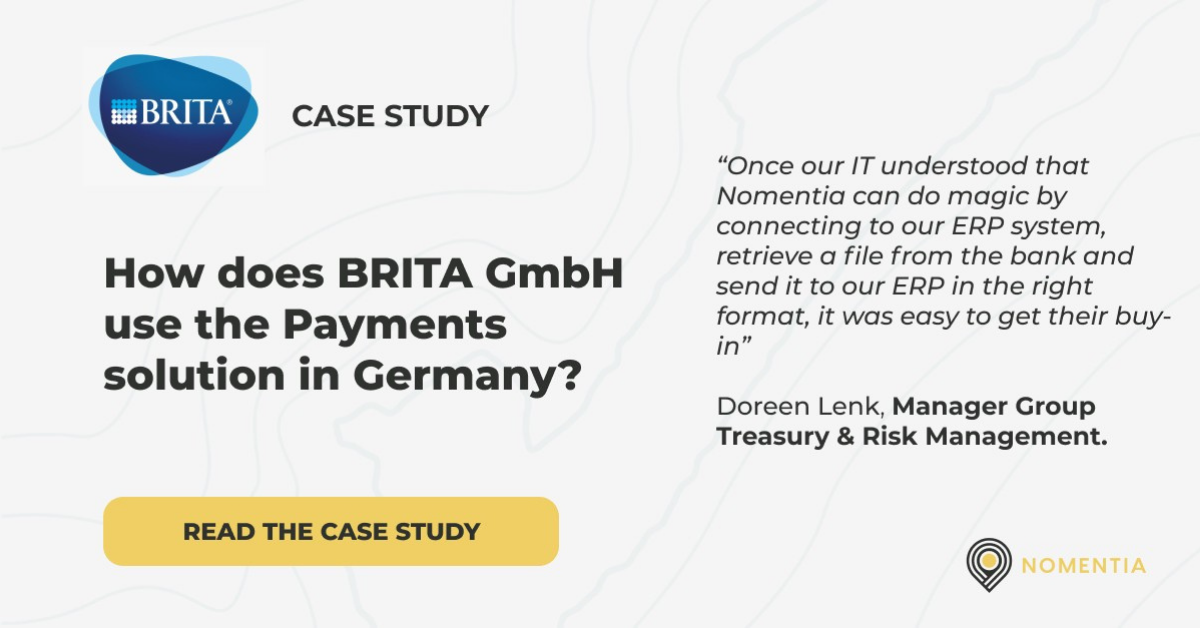 The challenge
Brita has a complex business. The company's products are distributed globally in over 70 countries on all 4 continents.
Brita's treasury department was facing the following challenges:
– The used multibank payment tool was discontinued.
– Lack of a system that is independent of banks.
– Lack of centralization of treasury and cash management.
Currently, cash management is not centralized in the company. But there are group requirements setting a minimum standard for banking systems. However, rolling out the project in Germany was the first step to evaluate the possible adoption also by the subsidiaries.
To roll out Nomentia worldwide and achieve the goal of having one system for all payment transactions, first, Brita needs to take a few vital strategic moves, such as ensuring that all subsidiaries are using a group bank and the same ERP system, as well as setting up connectivity with all the group banks to be able to handle also those payment types that cannot go through Electronic Banking Internet Communication (EBICS).
The solution
Instead of working with as many as 7 different banks just within Germany to process payments, Brita chose to use Nomentia, as a single tool that is independent of banks.
Currently, Brita is connected to two major global banks and a few local banks through EBICS. They are currently discovering the possibility to add more connections, like a host-to-host connection to a major global bank.
In the beginning, Brita's treasury and IT departments had to work closely with Nomentia to set up the project that required a lot of communication from both parties.
"Once our IT understood that Nomentia can do magic by connecting to our ERP system, retrieve a file from the bank and send it to our ERP in the right format, it was easy to get their buy-in. Our team had a lot of experience with long ERP projects and they were impressed with Nomentia's capabilities" – said Doreen Lenk, Manager Group Treasury & Risk Management.
Nomentia's Payments solution is currently used by almost all Brita's German branches and they are currently in the middle of rolling out the solution in Italy. In case that's a success, they may look at starting to use Nomentia in other countries as well.
The benefits
Rolling out a new product for treasury management can often be a challenge. It requires strategic planning from the department, cooperation with IT, and working closely with the solution provider. In addition, aligning the group in different countries also requires a lot of paperwork as well as training.
Brita has realized three key benefits of working with Nomentia. These benefits can be even further realized after further adoption of the solution.
1. One system for all in Germany for better processes and decreasing the number of errors
The biggest benefit has been that German branches can use one tool to communicate with all German banks. Without Nomentia, Brita would be working with several systems from several banks. Now all transactions go through Nomentia which makes the process less error-prone.
2. Automated processes
The processes have been automated for the German branches and this saves a lot of time for the accountants. As Nomentia is also integrated with SAP, they can see all the invoices from SAP, too.
3. Avoid fraud
With having just one system in place, it's easier to have the highest level of transparency of the transactions and access rights.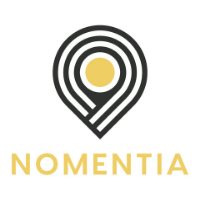 https://treasuryxl.com/wp-content/uploads/2021/11/nomentia-case-study-200.png
200
200
treasuryXL
https://treasuryxl.com/wp-content/uploads/2018/07/treasuryXL-logo-300x56.png
treasuryXL
2021-12-01 07:00:39
2021-12-06 13:21:16
How does BRITA GmbH use Nomentia Payments in Germany?