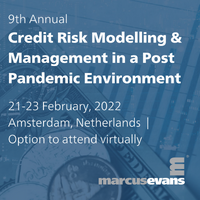 05-01-2021| treasuryXL | marcus evans |
Management of credit risk and models are a top priority for banks.

---
Amsterdam, Netherlands | Option to attend virtually
21-23 February, 2022 | 08:30 CET
---
Methodologies to review and refine credit risk models incorporating Basel IV, IRFS9, IRB, climate risk and stress testing regulation
Credit risk modelling and management is an ongoing priority for the banking industry. The true impact of COVID-19 on credit risk is not yet clear. During the pandemic governments across Europe injected a lot of cash into the banking system to support companies and individuals and even though this helped to minimize bankruptcies and defaults, the real economic impact has been masked. Moreover, credit risk models have been tested to the extreme and IFRS 9 models were no exception. If anything surfaced out of this situation for banks, is the need to uncover alternative credit modelling techniques which can help models perform better in various crises scenarios.
The marcus evans 9th Annual Credit Risk Modelling and Management in a post-pandemic environment conference, taking place in Amsterdam, Netherlands and virtually, on 21-23 February, 2022, will provide risk modellers much needed knowledge to improve existing credit risk modelling techniques to make accurate predictions and maintain profitability. Banks will be able to compare and contrast lessons learnt during the pandemic as well as pinpoint key challenges and priorities faced by credit risk modelling managers. Comprehensive solutions regarding modelling techniques, regulatory compliance, climate risk, stress testing and data management will also be offered.
Attending This Premier marcus evans Conference Will Enable You to:
Incorporate macroeconomic factors into stress testing
Practice and perfect IRB modelling techniques
Correct treatment of government schemes in IFRS 9 models
Comprehend the new definition of default
Interpret regulation and implement practical scenarios
Be precise when defining model parameters
Best Practices and Case Studies from:
Nick Popov, Managing Director, Rabobank
Matt Spencer, Head of Credit Risk Technology, Investsec
Stuart Burns, Model Development & Validation, Bank of England
Sebastian Ptasznik, Head of IFRS 9 and Non-IRB Risk Validation, Close Brothers
Joris Krijger, AI & Ethics Specialist, De Volksbank
Alan Forrest, Advisory Senior Manager, Model Risk Oversight, Virgin Money
Catarina Souza, Senior Expert Model Risk Management, ING
Special discounts available to Treasury XL subscribers! For more information please contact: Ria Kiayia, Digital Media and PR Marketing Executive at [email protected] or visit: https://bit.ly/3pTHs6p
https://treasuryxl.com/wp-content/uploads/2021/12/marcus-evans-event-15-12-200-1.png
200
200
treasuryXL
https://treasuryxl.com/wp-content/uploads/2018/07/treasuryXL-logo-300x56.png
treasuryXL
2022-01-05 07:00:10
2022-01-05 09:58:41
9th Annual Credit Risk Modelling and Management in a Post-Pandemic Environment