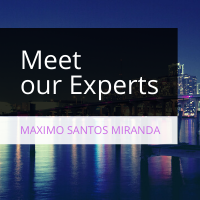 30-08-2021 | Maximo Santos Miranda | treasuryXL
Máximo holds a PhD in Economics and is graduated in Law. After 18 years working in International Cash Management in several multinationals coordinating local treasury units with the headquarters or implementing new ones all around the world, he is working as a university professor of finance, treasury and business strategies in several Universities and Business Schools in Spain. He is also a regular contributor in international media such as Forbes México, Forbes Centro America or Revista Gestión of Ecuador for the last five years.
"My first job in treasury was the best you can wish for"
As a researcher he has published more than 30 articles in research journals about banking systems, treasury, finance in general, fintechs or international sanctions and at the same time he is a referee in postgraduate research journals. He also collaborates with Think Tanks and international institutions in different ways.
We are delighted to share the interview with Maximo. Let's dive into his treasury journey and Máximo's opinion about the future of treasury combined in 8 questions and answers.

1. How did your treasury journey start?
After finishing my studies in economics, my intention was to work for a bank. In fact, my first professional steps were in banking. However, one day I saw a job offer that looked very interesting and I applied for it. Normally, I always prepare the job interviews in detail but this didn't happen at that time. So, I went to the interview with no visibility of the company I was applying for. After a couple of quick interviews, I was selected as a treasury analyst for Cemex European headquarters.
Everything was perfect. My first job in treasury was the best you can wish for. I was part of the team of international cash management and Cemex at that time was in the middle of fast growth movements. Cemex acquired different subsidiaries worldwide and I was in the center of all those financial flows. There was much stress but the work atmosphere was fantastic and the promotion possibilities were reachable.
2. What do you like about working in the world of Treasury?
Most of my career in treasury has been focused on the international side and that provides an unpayable extra value. Thanks to being an international treasurer I have learned a lot about how treasury and finance work worldwide. I have had the opportunity to see how the banks work in many countries and how different companies from different sectors and industries adapt their cash management to their operative peculiarities and the markets where they are inserted.
3. What is your Treasury Expertise?
International cash management is my greatest strength in the treasury world. Most of the time in my treasury career I have worked as a coordinator of local treasury units. That role has allowed me to see different approaches to similar issues in different countries.
4. What has been the best experience in your treasury career until today?
In my first years in treasury, I had to coordinate the movement of funds (in three currencies) between different subsidiaries located in different countries and different banks on the same day. The number of funds moved was very high and the number of countries where the money passed through was also high (more than 20 countries in three continents). I was preparing the operation for a week and finally everything went fine. For me it was quite stressful as the operation was completed finally in 15 hours and it was necessary to compensate several delays in the intermediate transactions. When you prepare in detail a complex operation like that and everything is completed as forecasted you feel very proud of all the work done. After that operation, I have coordinated other operations quite similar but the level of stress has been much lower compared with the first one.
5. What has been the biggest challenge in your treasury career?
In the year 2005 Cemex sent me to Italy for three years to set up a new treasury unit in the country. For me it was a big challenge. First of all, because I didn't speak Italian when I went there and soon I realized that to speak Italian is a key point if you want to do your job properly. Secondly because although I worked for a big multinational, the Italian subsidiary was quite small and the approach of the local banks was completely different to that I saw in the Cemex European headquarters in Madrid.
6. What is the most important lesson that you have learned as a treasurer?
Things work if you prepare them in detail. You can have a very complex operation in your hands but if this operation is prepared in detail (forecasting different scenarios and alternative solutions) the final success is almost guaranteed. Good preparation is the key to success.
7. How have you seen the role of Corporate Treasury evolve over the years?
The function has changed a lot. When I started in treasury in the year 2001 the administrative workload was the most relevant part of the treasury function, at least in time-consuming. Today instead and thanks to technology the time spent on administrative issues have been reduced significantly. That reduction has allowed the treasurer to dedicate more time to other issues that generate more value for the company. A good treasurer today must know much more than before about technology applicable to the treasury function and must also have strategic thinking.
8. What developments do you expect in corporate treasury in the near and further future?
The treasury teams will be smaller in the future. The technology will reduce all the administrative treasury tasks to the minimum. The treasurer of the future should be focused on technology, strategic thinking and create additional value for the company. To reach that goal, the corporate treasurer should be passionate about the function and must be always informed of the latest developments in the market. The corporate treasurer should know the latest developments in technology, in treasury products, in treasury strategies… always learning. The treasurers of the future should communicate better and invest time in treasury education and build treasury networks to exchange knowledge with other colleges or experienced treasurers. To sum up, the treasurers of the future should increase their impact in the companies thanks to the technology developments.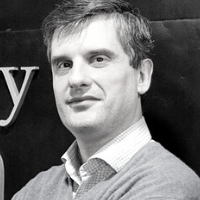 Does your business need support in Treasury or a Treasury QuickScan?
https://treasuryxl.com/wp-content/uploads/2021/08/Meet-our-experts-200x200-1.png
200
200
treasuryXL
https://treasuryxl.com/wp-content/uploads/2018/07/treasuryXL-logo-300x56.png
treasuryXL
2021-08-30 10:30:23
2021-08-30 11:30:56
8 questions for International Cash Management expert, Máximo Santos Miranda