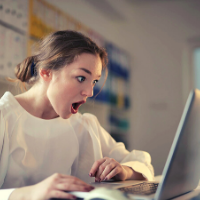 08-04-2020 | Treasurer Search | treasuryXL
Kim Vercoulen is recruitment consultant specialized in treasury vacancies for interim and permanent positions. As a recruitment consultant she often experience that the most qualified candidate does not get the job. In her blog below she gives 5 reasons why the 'perfect match' is not a matter of course… enjoy!

You may have been in the situation yourself that you read a job description where you find that the requirements match your experience for (almost) 100%.  You get invited for one or two interviews, you think it went great and expect positive feedback. But then.. You receive the call that they will propose an offer to another candidate. You are puzzled and don't know what you could have done more. As a recruiter I have seen this situation and in this article I will discuss 5 reasons why the best qualified candidate does not always get hired.
1. Interview skills
For starters, getting a job takes a different skill set than doing the job. I see so many jobseekers focused on their previous experience in the field, which of course also is necessary, but getting the job requires you to practise other skills you might not have used in a long time. Skills like how to interview, network and negotiate. Recognize that these are skills that need practice. In a previous article we wrote we give you tips on how to prepare. You can also find a lot of helpful interview tips on the internet.
2. Socially desirable answering
One thing we also see is that people often give socially desirable answers in an interview. They give the answers they think the recruiter wants to hear. This gives the recruiter an unnatural impression and can hurt your credibility. In interviews the feeling you leave your conversational partner with plays a big role, you can imagine that only giving socially desirable answers does not leave them with a good feeling about the interview. They might think you are hiding your true self. That's why it's always better too keep your answers honest and authentic.
3. No match with company culture
You can be the perfect candidate on paper but in real life not fit in with the company culture. This could feel as unfair, but for both parties (candidate and company) this is very important in order to make a long lasting match. When you don't feel at home you will be simply less enthusiastic, less motivated, less productive and will likely end up leaving the company sooner.
4. Lack of enthusiasm
Sometimes we receive feedback from our clients that they think the candidate could do the job very well, but that they did not feel that the candidate was enthusiastic about the company and the job. Do not assume that just because you applied it signals that you want the job. Make sure your verbal as well as your non-verbal communication shows how much you want to be hired. In the end we see that in most cases an employer will pick the enthusiastic though less qualified candidate over the more qualified but tepid candidate. So do not be afraid to explicitly state your enthusiasm for the job.
5. Unrealistic salary indication
Our clients always ask us to introduce candidates with a salary indication to make sure this will not become a dealbreaker in the end of the process. We sometimes speak to candidates who do not know their market value and ask for a too high (or too low) salary based on the market rate. Going too low can lead to underestimation and can result in employers thinking you might not be up for the task, while aiming too high can result in not getting the job because they can't afford you. Make sure you know your worth before starting with applying by studying vacancies and using online tools. You can always consult us too, we have a good view on the treasury market and can help you with setting a realistic salary indication.
Take advantage with the Treasurer Test
Treasurer Test is the assessment tool for treasurers and it's integrated in our services. With the Treasurer Test result report you can show your treasury skills at a glance next to your cv and motivation.
Find more info about the Treasurer Test here.
Take a deeper dive into how we integrated the Treasurer Test in our services here.
Author
T: (0850) 866 798
M: (06) 2467 9339
https://treasuryxl.com/wp-content/uploads/2020/04/amazed.png
200
200
treasuryXL
https://treasuryxl.com/wp-content/uploads/2018/07/treasuryXL-logo-300x56.png
treasuryXL
2020-04-08 07:00:56
2020-04-07 16:28:57
5 reasons why the most qualified candidate does not get the job