Live Webinar: An Interactive Cash Forecasting Discovery Session
22-03-2022 | treasuryXL | CashAnalytics | LinkedIn |
Do you spend more time compiling and reconciling your team's cash forecasts than you spend analyzing the output?
If so, you're *definitely not alone.*
---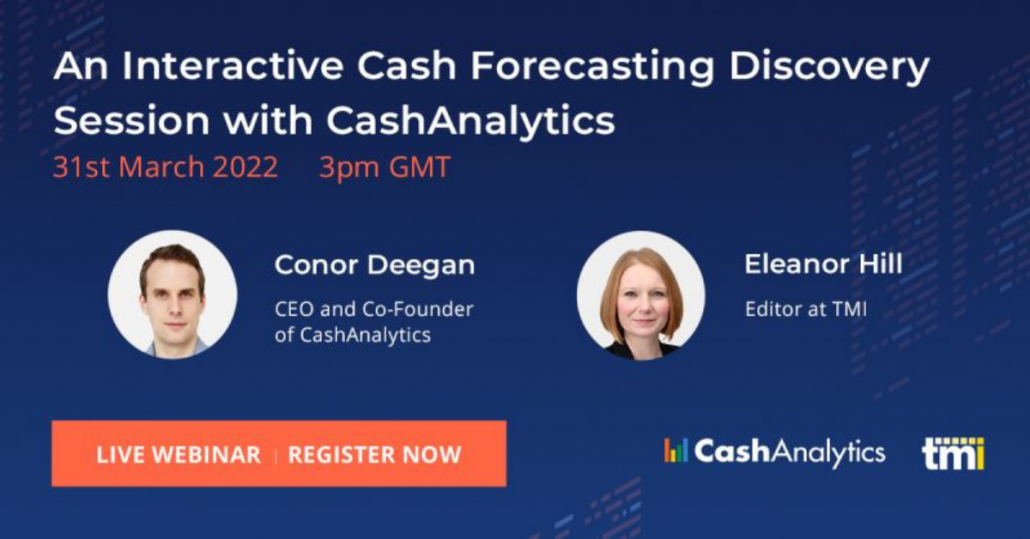 ---
We've spoken with a number of Treasury functions who were spending 3+ business days creating weekly forecasts. This left them about a day or so to analyze the results before presenting that information to key stakeholders.
As you already know, this is not an ideal setup. This manual process leaves your team squarely behind the 8-ball, struggling to gain more cash visibility.
That's why we're excited to announce a special event that will teach you how to create more reliable forecasts (that are free from human error) in a fraction of the time it currently takes you.
Join Conor Deegan, CEO and founder of CashAnalytics, as he partners with Eleanor Hill from TMI for an exclusive and interactive forecasting session on March 31. During this live event, we will cover topics like:
How automating your forecasting process leads to better output in less time
Why you need to understand your organization's key drivers of cash (like customer payment behavior, DSO, DPO, and more)
What it looks like on a technical level when you leverage a cash forecasting platform (*spoiler*: it's a lot more user-friendly than you'd think).
But here's the real kicker…
…we're also letting attendees bring their questions to the discussion, so we can find the perfect solution for your team's unique needs. While Conor and Eleanor will be leading the conversation, they'll be fielding questions from people just like you who want more confidence in their organization's approach to cash management.
---
---
P.S. Can't make the live event? No worries. You can still sign up and we'll send you the replay!