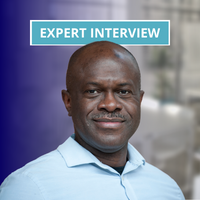 Interview | 7 questions for Adesola Orimalade, Seasoned Treasury Professional
09-01-2023 | treasuryXL | Adesola Orimalade | LinkedIn |
Meet our newest expert for the treasuryXL community, Adesola Orimalade
Adesola is one of the few Treasury professionals around who has worked in both banking and corporate treasury, across various industries and in both Africa and Europe.
Since walking into his first role over a decade ago, he has built his competence in many areas of treasury including cash management, treasury operations and operational/liquidity risk management.
Aside from his professional background Adesola is passionate about using his professional knowledge and expertise to support voluntary organisations that operate within his areas of interest (homelessness, poverty, climate change etc). He currently serves on the board of a U.K. charity.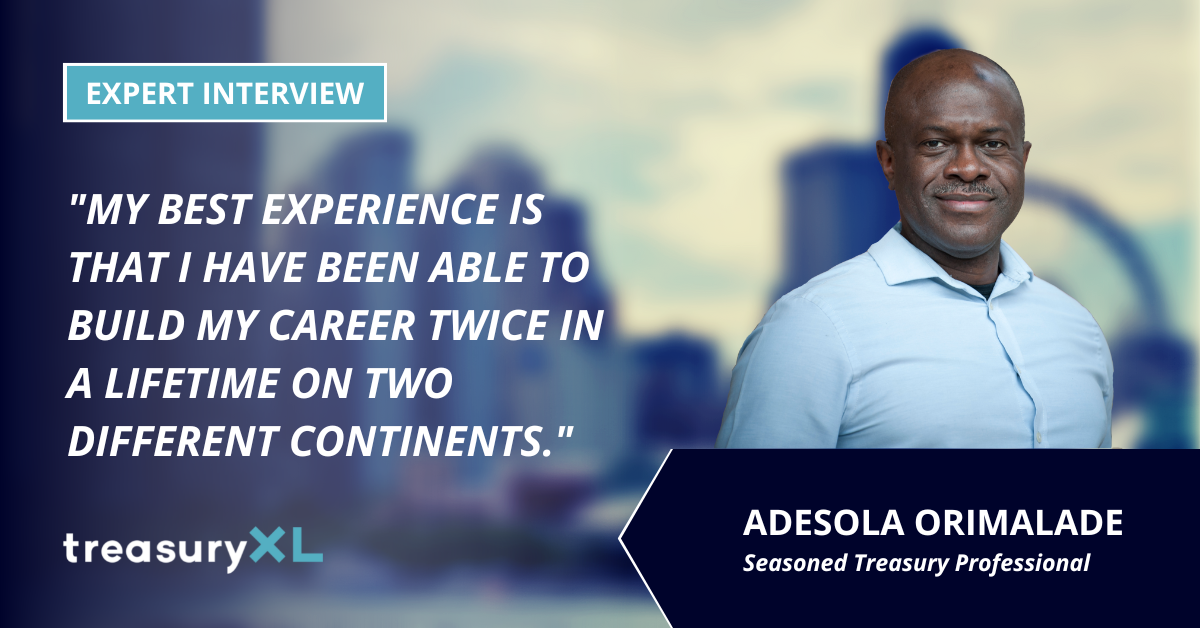 We asked Adesola 7 questions, let's go!
INTERVIEW
---
1. How did your treasury journey start?
Having obtained a diploma in Town and Country planning and a first degree in Estate Management, my desired career path was to work for any of the regional or multilateral agencies devoted to development finance, urban renewal, housing etc. Growing up I had seen the slums in cities like Nairobi, Johannesburg and even Lagos. I wanted to make a difference.
Life however had a different plan for me, I started working in international banking operations at Citibank purely by accident.
It was during my time in international banking that I was first introduced to Treasury. Trade Finance as you know has a lot of opportunity to interface with Treasury and whether that's in terms of arranging FX for importers to enable them to pay for machinery or raw materials purchased from abroad or issuing an advance payment guarantee on behalf of a contractor.
Later on I joined Standard Chartered Bank as the pioneer head of trade finance in Nigeria and as it was a small team I also served as back up to the treasury operations manager whenever she was away. It broadened my exposure to banking treasury as I got involved with managing risk across the front, middle and back office functions including taking responsibility for the confirmation and settlement of deals, position reporting and so on.
It wasn't until 2005 however that I got into the corporate treasury which was again purely by accident. A large telecommunication service provider was seeking to enhance their corporate treasury and someone recommended me to the CFO. I was offered the deputy head of treasury role and was promoted into the Treasury Manager shortly thereafter.
That role was to fuel my passion for Treasury and although I had enjoyed my career in international trade, I wanted to build my future career path within the Treasury space.
2. What do you like about working in Treasury?
As biased as this may sound, I believe that Treasury sits at the center of an organization, and we are therefore a significant player in many of the major decisions required especially those with financial implication.
That importance of Treasury and the ability to make a positive impact within the organization is what I really like about Treasury.
In addition, I also enjoy the fact that Treasury interfaces with a lot of internal and external stakeholders. Building and nurturing those relationships is also something I enjoy about working in Treasury.
Finally the treasury is impacted by a lot of socio-economic issues external to an organization. I enjoy being informed. I enjoy current affairs. I enjoy reading and understanding the world from an economic, social, environmental and political perspective. It is great to be in a career where my passion can relate with my day to day activities.
3. What is your Treasury Expertise and what expertise gives you a boost of energy?
I view myself as a Treasury Generalist given that I have worked in both banking and corporate treasury. I have had the opportunity of working in organisations where I had responsibility for the typical front, middle and back office treasury functions.
The areas that give me a big boost however are Cash/Liquidity Management and building cash forecast models/tools, Working Capital Optimisation/Management, building greenfield treasury teams and/or functions as well as developing existing treasury teams and/or process re-engineering.
4. What has been your best experience in your treasury career until today?
When I left Nigeria to relocate to the United Kingdom, I wanted to continue building my career in Treasury but the response from my looking for roles was 'you lack U.K. Treasury experience'.
I was excited when I got my first role in Corporate Treasury and when I look back now my best experience is that I have been able to build my career twice in a lifetime on two different continents.
Very few people can say that .
5. What has been your biggest challenge in treasury?
Successfully managing the treasury function for an online travel company during the recent covid pandemic comes easily to mind. This is bearing in mind that the travel/airline industry was one of those that was significantly affected by the local and cross border restrictions that were introduced globally.
6. What developments do you expect in corporate treasury in the near and further future?
I think the recent experience from the pandemic means that businesses would continue to focus on cash visibility, liquidity and financial risk management and how technology can be used to achieve better cash forecasting.
7. Is there anything that you would like to share with our treasury followers that they must know from you?
Over the last couple of years I have been trying to get more young people involved in treasury; especially young people from ethnic minorities in the U.K and across Europe.
On one level treasury professionals can come across as being all technical and number crunchers so the idea is to show that the profession is all inclusive.
I have been to take that message to various institutions within Europe, sharing with them "What a day looks like in the life of a treasurer". I ran workshops for that purpose at the University of Nottingham Business School and Cologne Business School.
Want to connect with Adesola? Click here
Thanks for reading!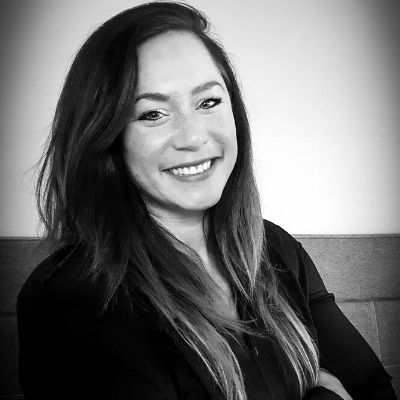 Kendra Keydeniers
Director Community & Partners, treasuryXL
https://treasuryxl.com/wp-content/uploads/2023/01/Adesola-200x200-interview.png
200
200
treasuryXL
https://treasuryxl.com/wp-content/uploads/2018/07/treasuryXL-logo-300x56.png
treasuryXL
2023-01-09 07:00:56
2023-01-10 11:06:41
Interview | 7 questions for Adesola Orimalade, Seasoned Treasury Professional