< Back
VU | Live Zoom session Treasury Management & Corporate Finance | 17 August 10:00 CET
Join Now
VU | Live Zoom session Treasury Management & Corporate Finance | 17 August 10:00 CET
Would you like to further develop your knowledge, skills and professional view? Join our session on 17 August 2022!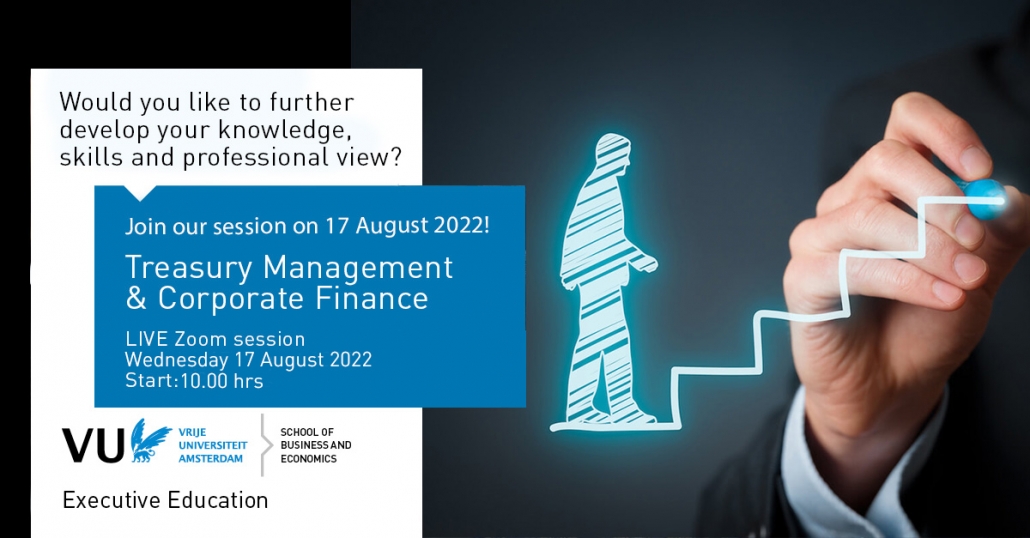 Become a Treasury Academic Professional!
To become a 'Treasury Academic Professional', graduates need an overview of the standard knowledge in the broad range of topics covered by Treasury Management and Corporate Finance and need a deep understanding of Treasury Management and Corporate Finance concepts as well in order to judge applicability, create new concepts or rapidly adjust to new concepts. This requires intellectual flexibility, obtained by regular acquisition of new (academic and professional) knowledge and being able to formulate and present on a regular basis your 'Own Opinion' on issues in the treasury discipline.
Therefore the programme organizes frequent discussions & debates in class and in the professional network. As a result, the Treasury academic professionals are able to think beyond the standard professional practice and judge and foster new development, act as true expert professionals by executing Treasury Management & Corporate Finance with a broad perspective on the corporate board level. And most and for all: Being able to enjoy the profession!
Status
Unlimited tickets
0 Has Sold