< Back
VU | Live Webinar Treasury Management & Corporate Finance | 24 August 10:00 CET
Join Now
VU | Live Webinar Treasury Management & Corporate Finance | 24 August 10:00 CET
Do you want to strategically plan your treasury career and are you curious what role education can mean in this?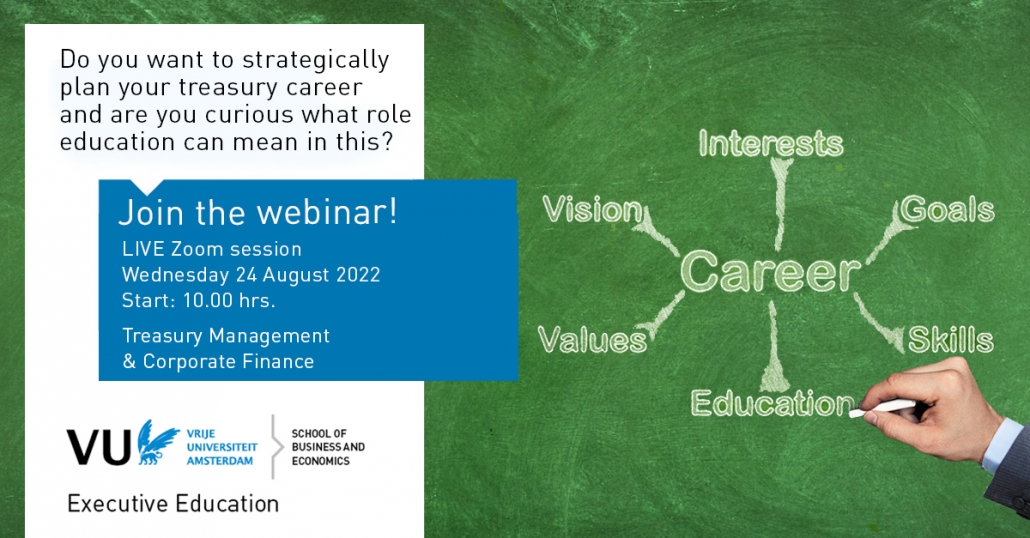 Mark your calendar for August 24 at 10 am CET
Join the live session with Pieter de Kiewit, owner of Treasurer Search.
Strategic treasury career planning and the role of education
For a long time treasury has not been a conscious career choice for most practitioners. Nowadays an increasing number of professionals, including aspiring treasurers, think about and plan their professional goals. They think about drivers, companies, job types and also education.
In an interactive webinar Pieter de Kiewit will discuss the most relevant topics in strategic treasury career planning with a strong focus on the role of education in this. His career in international recruitment spans over 25 years. For almost 15 years his only focus is on recruitment in corporate treasury. Pieter is Member of the Management Board (curatorium) of the post-graduate programme Executive Treasury & Corporate Finance of the Vrije Universiteit Amsterdam.
Status
Unlimited tickets
0 Has Sold