17-11-2021 | treasuryXL
treasuryXL are delighted to share a quick interview with Treasury Recruitment Consultant, Kim Vercoulen.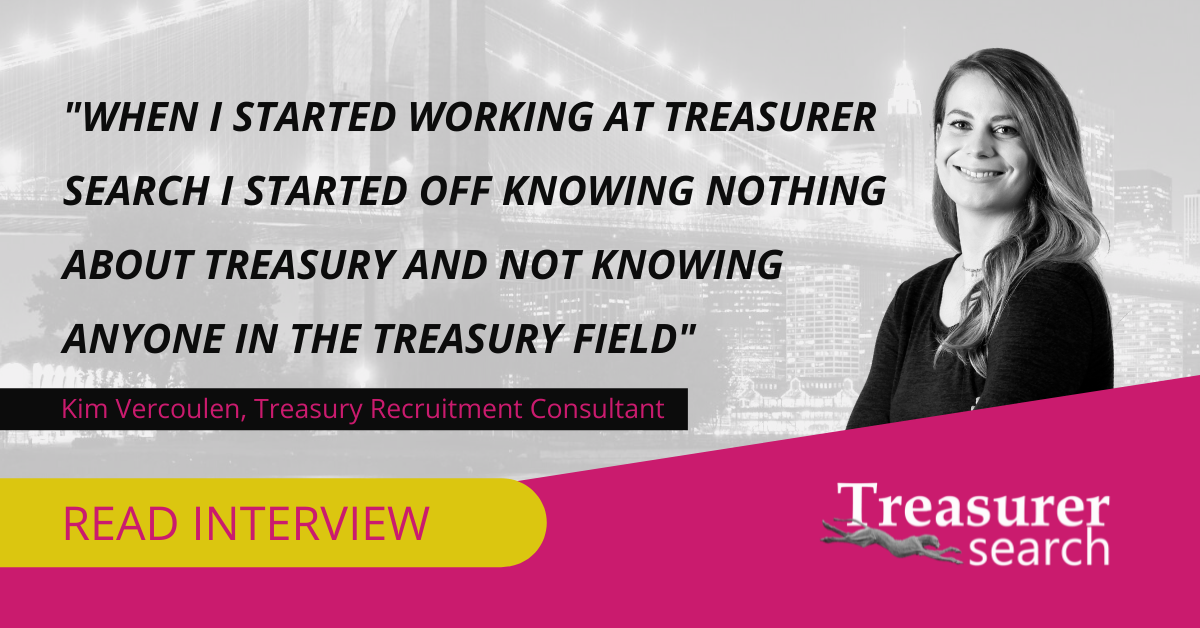 Let's wait no longer . We asked Kim 8 questions, let's go!
Treasurer Search is a Netherland-based recruitment business for treasury. What is your role within the company?
At Treasurer Search we are specialized in the recruitment of treasury professionals at  all seniority levels, for both permanent and temporary (interim) treasury positions. As a recruitment consultant I am responsible for the whole recruitment process from A to Z. This includes contacting existing and new clients, leading intake meetings with clients to discuss the requirements, managing the candidate search, setting up interviews and sometimes also assist in labour contract negotiations.
How would you describe Treasurer Search in 3 words?
Expertise, Commitment, Quality
What is, in your perception, the biggest benefit for clients and candidates to work with Treasurer Search?
Because of our warm network and expertise in the treasury niche we are able to match candidates and clients with speed, without losing quality. This saves both parties time, and time is money. Especially in a period where the number of vacancies is growing, and candidates are getting sparse.
Normally, the biggest Treasury Fair in the Benelux, the DACT, would start next week. What is the history of Treasurer Search and this event?
Since the startup of the company in 2009, Treasurer Search attends the DACT Fair. Since 2019 we not only attend but also host a booth.
What are the most common questions of people visiting the Treasurer Search booth?
Known candidates and clients stopping by for a catch up
Candidates asking to schedule a career calibration meeting
Clients asking to schedule an orientation meeting to discuss the possibility of working together
Explanation about the Treasurer Test we integrated in our services
Can you tell us more about your 'Career Calibration' strategy? Who can benefit and how?  
The Career Calibration is meant for candidates who want to get a better view on the current job market and discuss their opportunities. Together we will reflect on your experience, your career goals and the different possibilities there are to reach those goals. If you decide it's time to actively look for a new challenge elsewhere, we can of course help you find what you are looking for.
Treasurer Search implemented the use of the Treasurer Test in the recruitment process last year. What are the experiences from clients and candidates using this assessment tool for corporate treasurers?
The Treasurer Test is currently the only tool available to objectively measure someone's treasury knowledge It also incorporates a Big Five Personality Test, which is by far the most scientifically validated and reliable psychological model to measure personality. This combination gives clients a good overall view on the candidate and most importantly gives them a good basis for a more in-depth follow up conversation.
Last but not least a more personal question, what are you most proud of in your career at Treasurer Search?
When I started working at Treasurer Search I started off knowing nothing about Treasury and not knowing anyone in the treasury field. In February next year, I will be working here for 4 years (time flies when you're having fun). During this time I learned a lot about this field of expertise and the people working in it. I started working in the shadows of my colleague Pieter and step by step I  took on more responsibilities. Now I am handling recruitment processes individually from A to Z. I am most proud when clients and candidates let me know they are happy they chose to work with us and that we really managed to distinguish ourselves from other recruiters they have worked with before.
Go to Kim's profile here.
https://treasuryxl.com/wp-content/uploads/2021/11/KV-interview-200.png
200
200
treasuryXL
https://treasuryxl.com/wp-content/uploads/2018/07/treasuryXL-logo-300x56.png
treasuryXL
2021-11-17 15:04:13
2021-11-17 15:12:56
Interview | 8 questions for Kim Vercoulen, treasury recruitment consultant at Treasurer Search